Two drown in snorkeling accident
Tuesday, April 3rd, 2012
Seven tourists left Caye Caulker on the morning of April 3rd to experience Hol Chan Marine Reserve and Shark Ray Alley, one of Belize's top destinations for snorkelers and divers alike. Trusting tour operators from Tsunami Tours to provide this memorable experience in Belize's waters, two deaths were the last thing on their minds.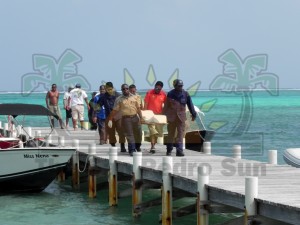 According to Dr. Noeli Nicholson, around 12:40pm, five tourists arrived at the Dr. Otto Rodriguez San Pedro PolyClinic II accompanied by a Hol Chan Marine Ranger. They appeared to have received multiple scratches and were visibly shaken.
Further investigations revealed that the tourists left for Hol Chan with Caye Caulker based Tsunami Tours, which is owned by longtime Caye Caulker resident and Canadian national Heather Martin. They mentioned that the tour guide kept taking them into the channel at Hol Chan and they started to get separated because of the strength of the waves that were pushing them into the reef. Dr. Nicholson informed The San Pedro Sun that the husband stated that he and his wife became separated from the group around 11:30am.
Around 1:45pm, a private boat CC-0021, arrived with the female casualty at the dock in front of BC's. Dr. Nicholson was called to pronounce the death of the woman, whose name is being withheld. Around 2:45pm a second (unidentified) body was brought in by the Hol Chan Marine Reserve boat. The body was taken to the PolyClinic.
The survivors were also taken to the Dr. Otto Rodriguez PolyClinic II and treated for multiple abrasions and bruises which were sustained from the reef. The husband of the first casualty is currently under observation as he suffers from a heart condition. The tour guide was detained by police where a statement was issued. The investigation continues into this case. The San Pedro Sun will keep you updated as information becomes available.
Photo Gallery
Follow The San Pedro Sun News on Twitter, become a fan on Facebook. Stay updated via RSS