Education Day held at Banana Belt
Tuesday, September 25th, 2012
Press Release – University of Belize – September 23, 2012 – Student teachers of the Secondary and Primary Teacher Training Programmes in the Banana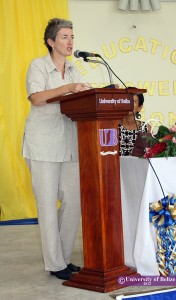 Belt Communities exhibited aspects of their training programmes at 10 am at the Georgetown Technical High School (GTHS) on Sunday September 23, 2012.
At the event entitled "Education Day" some 150 student teachers showcased aspects of their work as they relate to new and unique learning initiatives that will improve the quality of early childhood and primary education for the children of the Banana Communities and by extension across the country.
Visiting Belize for the exhibit was Ambassador Paola Amadei, the Head of Delegation, European Union Delegation to Jamaica, Belize, the Bahamas, Turks and Caicos Islands and Cayman Islands.
The training program for the student teachers resulted from a BZ $1.2 million project funded by the European Union aimed at upgrading the quality of education for primary school students in the Banana Belt communities of Southern Belize. The project which was launched in November 2010 was undertaken by the University of Belize in collaboration with the Ministry of Education, Youth and Sports.
Other dignitaries at the event included the Minister of Education, Youth and Sports, Hon. Patrick Faber, the President of the University of Belize, Dr. Cary Fraser, Chief Executive Officers of the ministries of Education, Youth and Sports, Economic Development, Agriculture, and the National Authorizing Officer of the Ministry of Economic Development.
Graduation for the student teachers will be held at the end of October.
Photo Gallery
Follow The San Pedro Sun News on Twitter, become a fan on Facebook. Stay updated via RSS