Hurricane Richard spares San Pedro; estimated damage to mainland $33 Million
Thursday, October 28th, 2010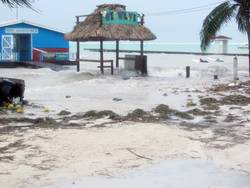 Hurricane Richard was the 17th named storm and the 10th hurricane of the 2010 Atlantic hurricane season. Richard developed from an area of low pressure that stalled in the Caribbean Sea in mid-October. It slowly organized and was declared a tropical storm and given the name Richard on October 20th 2010.
The Government of Belize (GOB) issued its first warning of the threat of Richard on October 22nd with a tropical storm watch issued for the entire east coast of the country. As Richard was rapidly intensifying the tropical storm-watch was replaced with a tropical storm warning, which was shortly upgraded to a hurricane warning on October 23rd. At around 5:40pm on October 24th, Hurricane Richard made landfall about 20 miles south-southeast of Belize City at peak intensity with wind gusts of about 90-100mph.
Initial findings from a damage assessment by the National Emergency Management Organization (NEMO) showed damages to over 150 homes and preliminary figures of around 3.6 million dollars in loss. Shelters across the country saw over four thousand people flocking to their doors. The Citrus industry is reported to have taken a great loss as a result of this hurricane. While most trees remained standing, all the fruits were knocked off the trees.
In a press release issued by Belize Electricity (BEL), they confirmed that Tropical Storm Richard left much of the nation without power. The Company conducted a damage assessment earlier on Monday morning October 25th had commenced restoration works to provide power supply to areas affected by power outages.
The hurricane caused downed power lines and damaged utility poles in several parts of the Belize and the Cayo Districts. The northern parts of the country remained unaffected by Hurricane Richard.
As the storm set in along the shores; waves rose to about 5ft, beyond the reef about 15ft with maximum sustained winds of 42 mph.
While San Pedro and Caye Caulker did not receive a direct hit from Hurricane Richard, some damages were experienced. San Pedro Town Emergency Operating Committee was officially activated on October 23rd, 2010 after receiving information from NEMO headquarters in Belmopan. The three major water taxis were notified of the situation and asked to be on standby in the event that a necessity to evacuate arose. The Emergency Operating Center was manned by The Belize Coast Guard, Belize Defense Force, Police officers, Deputy Mayor, volunteers, Public Officers and the District Emergency Coordinator.
According to a report coming out of NEMO San Pedro/Caye Caulker, there were several flooding reports in the Reef Village area, however nothing life threatening. Voluntary evacuation was strongly encouraged and The Belize Coast Guard and Fisheries Department vessels were used to assist people with severe financial difficulties. The total number of evacuees was well over one thousand people. Most people evacuated to various parts of the country with relatives.
Given the projected path of Hurricane Richard and wind speed accompanied by it, three buildings were opened to accommodate residents of Caye Caulker and San Pedro fearing that their place of residence would not withstand the winds associated with the Hurricane. Two shelters were opened in San Pedro, the San Pedro High School and Shalom Church, and one in Caye Caulker; in Caye Caulker the Assembly of God Church was building was utilized as shelter. The combined number of occupants in all three shelters during the hurricane amounted to 134.
According to District Emergency Coordinator, Ms. Jeromey Timrose, the San Pedro Town/Caye Caulker Emergency Operating Committee members should be commended for a job well done. All the exercises and preparations paid off. Chairperson and members of the EOC took on their roles and demonstrated responsibility and dedication.
In addition Ms. Timrose expresses her sincere thanks to the following: members of the San Pedro Town/Caye Caulker EOC Members, the Public Officers who responded to the call and needs of the community during Hurricane Richard, special thanks also to the Area Representative and EOC Chairperson, Hon. Manuel Heredia for his dedication and support to all members of the EOC; Mr. Alberto Villanueva, Caye Caulker EOC Chairman and Village Council and his team; Caye Coffee Owners Paul and Sara for keeping EOC members all awake with Caye Coffee.
Follow The San Pedro Sun News on Twitter, become a fan on Facebook. Stay updated via RSS