Judy's Bar & Fast Food destroyed in Boxing Day blaze
Friday, December 31st, 2010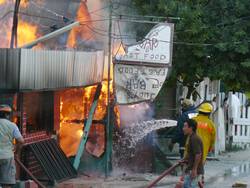 Residents of the San Juan Area were alarmed at the sight of thick dark smoke stretching high in the sky on December 26th a little after 4:30pm. Quickly, residents from near and far converged around the block of street in front of what was formerly Judy's Bar & Fast Food.
In speaking with Fire Chief Mr. Jerome Garcia of the San Pedro Fire Department, The San Pedro Sun learned that information reached the Fire Department on Sunday December 26th at 4:30pm of a house on fire in the San Juan Area. Fire fighters were dispatched to the scene. The fire fighters reported seeing the dark smoke as they approached the area. Upon arrival they found the building belonging to Mrs. Suzie Halliday, located on Piper St., ablaze.
The residence housed three different establishments – a Bar, a Restaurant/Kitchen and the living quarters of its renter. The building had been rented by Xiao Zhan Mai, or "Ms. Judy" as she is known by island residents. At the time of the fire, Ms. Mai was out of the country; however, her husband was the only person reportedly on the premises.
The fire spread quickly and within an hour and a half, firefighters managed to contain the blaze. After initial investigation of the damages, it was estimated that the cost of content lost was valued at Bze$32,235.00. The value estimated to the restaurant and kitchen area of the structure is valued at Bze$18,200.00. At news time, the value estimated to the damage sustained by the cement building housing the bar was unknown. Investigations further revealed that the structure was not insured. After investigation into the cause of the fire, it was determined that the fire occurred as a result of electrical problems in the kitchen area.
Follow The San Pedro Sun News on Twitter, become a fan on Facebook. Stay updated via RSS