Parked golf cart crushed by container
Thursday, April 5th, 2012
A golf cart was totaled when a container fell on it while parked in front of a store in the San Pablo Area of San Pedro Town. The incident occurred sometime between 9:30AM and 10AM, while workers were offloading cargo from the container in front of Island Pool Supply. It appears that the container tipped over and crushed the parked golf cart when part of the ground caved in.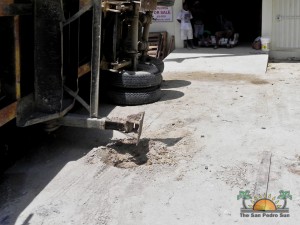 The San Pedro Sun understands that the driver of the cart had just parked and was inside the store picking up some supplies. The incident occurred so fast that nothing could have been done to prevent the container from falling over the cart. Luckily no one was hurt in the freak incident.
According to Julie Putnam of Island Pool Supply, some merchandise was damaged, but everyone is really thankful that no one was hurt. According to the Police, the driver of the cart has visited the San Pedro Police Department where he has given a statement. While the cart was ensured, The SP Sun understands that the container, with license plate BZE A2018, was not insured. SP Police say that because the nature of the incident is slightly different than a road traffic accident, the incident would have to be settled through a civil suit in the court.
Photo Gallery
Follow The San Pedro Sun News on Twitter, become a fan on Facebook. Stay updated via RSS