Press Release by Ramon's Village regarding boat accident
Thursday, June 7th, 2012
Press Release – Ramon's Village – June 7, 2012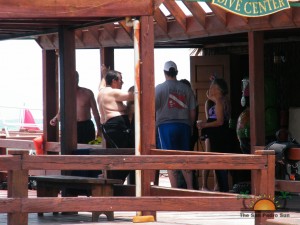 At 11:00AM this morning a chartered boat by Ramon's Village Dive Shop left the pier along with two other boats to conduct a dive trip. The boat was captained by Mr. Will Lima with a crew of two and 8 divers on board.
At approximately 11:15AM immediately after crossing the San Pedro Cut, the side of the boat was hit by two back to back waves capsizing the vessel.
Our Dive Shop Manager and his assistant witnessed the event and immediately called one of the boats (that had already made the crossing) to assist along with the third boat that was picking up divers from other piers. At the same time two staff members on the Pier got in their boats and hurried to assist. By 11:18AM four boats were at the accident site engaged in the rescue operation.
By 11:35AM all 8 divers, Captain and crew were safely on the Pier. A few minutes later the Doctor visited all the persons that were in the boat for evaluation. The Captain and a passenger are the only two that sustained minor injuries.
The Port Authority was on site conducting preliminary investigations. Members of Ramon's Dive Shop and the Dive Community assisted in bringing the boat back to the dock. The Management and Staff of Ramon's Village Dive Shop would like to thank all those that helped in a successful rescue operation.
End of Release
Follow The San Pedro Sun News on Twitter, become a fan on Facebook. Stay updated via RSS