Snorkeling Tragedy at Hol Chan ruled an accident
Thursday, August 9th, 2012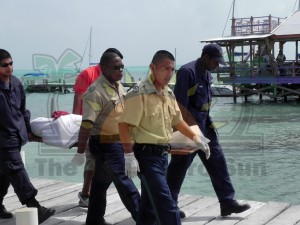 The death of two visitors to Belize during a snorkeling excursion on April 3rd was ruled as an accident and death by drowning.
The San Pedro Sun reported on the devastating tragedy that took place in one of the country's most famous snorkeling destinations, the Hol Chan Marine Reserve (HCMR) located between Caye Caulker and Ambergris Caye. The incident which occurred around 11AM that Tuesday, claimed the lives of American national 54 year old Roger Burger and Italian national Paola Maria Falco. Both were part of a group of seven that had become separated from their group by strong currents near the channel at the HCMR. The group had earlier left Caye Caulker onboard the Cyclone vessel, belonging to Tsunami Tours based in Caye Caulker when the incident happened. Initially, four individuals went missing during the snorkeling tour in the Hol Chan area. The guide, Marcel Graniel went in search of the missing individuals and later found that two had returned to the vessel. The other two remained missing and were eventually recovered dead around 2PM.
Also onboard the vessel were; Americans 54-year-old Mrs. Rebecca Burger and her 17-year-old son Zach Burger, Canadians 25-year-old Lawrence Tastet and 29-year-old Yanik Doyon and Italian 59-year-old Mr. David Florencia.  Following the incident, boat captain, Marcel Graniel was detained for questioning while police investigated the matter in an attempt to determine whether anyone was at fault or liable. A post mortem was conducted on April 4th by police pathologist Dr. Mario Estradaban at the Karl Heusner Memorial Hospital morgue who at the conclusion certified the cause of death as "Asphyxia by Drowning".
On June 1st, a correspondence was sent to the Commissioner of Police from the Coastal Executive Officer in respect to the death of Paola Maria Falco and Roger Morris Burger where it stated in conclusion: "Police Investigation does not find anyone criminally responsible for the death of ROGER MORRIS BURGER and POALA MARIA FALCO."
Follow The San Pedro Sun News on Twitter, become a fan on Facebook. Stay updated via RSS