Canadian National remains in critical condition after boat accident in Caye Caulker
Friday, November 24th, 2017
Caye Caulker resident, 61-year-old Canadian Guy Smith has been placed in an induced coma as he continues to receive medical treatment following a boat accident on Friday, November 17th on the west coast of Caye Caulker. Smith and his 19-year-old son Travis Smith were aboard a dinghy (small boat) when a large vessel belonging to Koko King Restaurant accidentally collided with them. An unconscious Smith was taken to the Caye Caulker Polyclinic where he was briefly treated before being transported to Belize City for further treatment. While he remains in dire condition, Travis was transported to Mexico by his mother, where he has been treated and is recovering.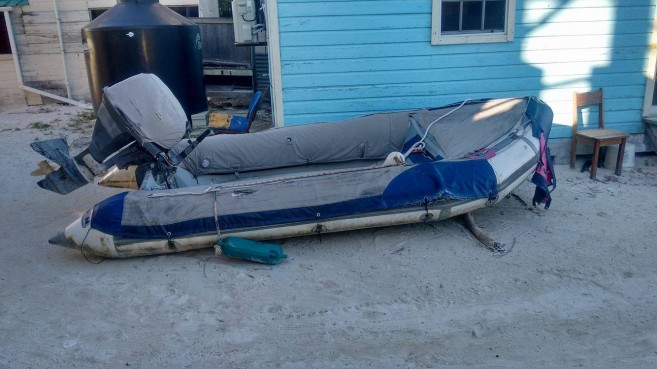 According to the official police report, when police arrived at the Clinic, they observed Smith in a state of unconsciousness and suffering from a cut wound to his right elbow. Initial investigations revealed that the dinghy Smith and his 19-year-old were in did not have lights or reflectors when Koko King's boat accidentally collided with them around 9:45PM. Koko King's boat was reportedly transporting customers from the north to the south side of the island when the accident occurred.
According to a close friend, Smith's condition is slowly improving. He shared that Smith lived on his Catamaran and is a popular man and a great sailor. According to the friend, Smith is suffering from massive swelling in the brain and had been experiencing internal bleeding as well. The accident also caused some broken ribs. However, on Thursday, November 23rd doctors confirmed that the hemorrhage in his brain had ceased. Also, Smith's pupils are responding to light, which according to the doctors is a good sign.
In the coming days, Smith will continue to be under intensive care and doctors will keep a close eye on him as he slowly recovers. Some of his family members have arrived from Canada, hoping he makes a full recovery. Family and friends continue to ask the Caye Caulker community and anyone who knows Smith to keep him in their prayers. As for Koko King, no legal action has been taken and friends of the victim believe there will be none.
Follow The San Pedro Sun News on Twitter, become a fan on Facebook. Stay updated via RSS