Award of Complementary climate funding to the Government of Belize
Friday, July 10th, 2020
The World, in grappling with the current COVID19 pandemic, has had a stark reminder of how disasters disproportionally affect the vulnerable. The disease is having a particularly dramatic impact on families and communities in developing countries that have fewer resources and weaker social safety nets. The COVID-19 economic downturn will differ from previous crises, as many of the sectors overexposed to the collapse in economic activity, such as tourism, absorb a sizeable share of female employment.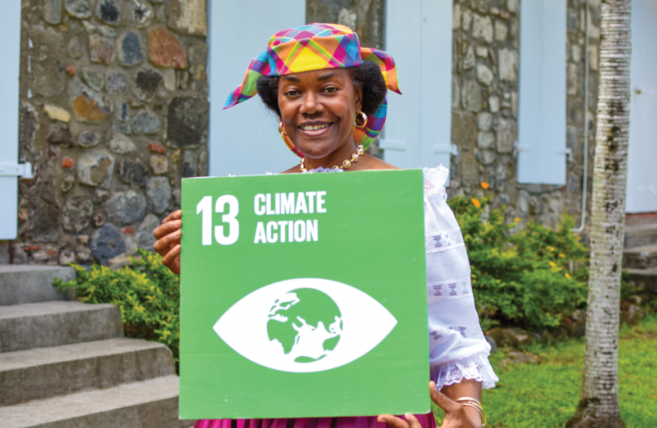 The UNDP programme, "Enabling Gender-Responsive Disaster Recovery, Climate and Environmental Resilience in the Caribbean" (EnGenDER) has been working with implementing partners, stakeholders and donors over the last year to strengthen disaster risk management systems for 9 Caribbean countries and build resilience to the effects of
climate change. This work is happening at a variety of levels, from improving central government's ability build strategies for inclusive approaches to policy making to build resilience; to strengthening regional systems for planning and recovery from natural disasters; to community level interventions to ensure the vulnerable have what they need to so that that adaptation and mitigation actions in key livelihood sectors, such as agriculture, consider vulnerable persons.
Belize, a small open economy heavily dependent on its natural resource base, continues to be ranked amongst those countries most vulnerable to climate change. Nowhere is this more evident than on the sustained losses recorded within the country's agriculture sector, which underpins the national economy. In 2019, severe drought conditions
resulted in a contraction of national GDP by almost 3%, as production systems were compromised. The expectation of a continuous assault of climate change on Belize's productive sectors emphasizes the need for national adaptation and mitigation planning as well as access to international climate financing sources to ensure the best outcome
for the country as it manages the risks to climate change.
It is within this context that the EnGenDER project has approved Belize's application to the "Offer of Complementary Funding to Government of Belize" of up to US$97,400 to everage sustainable climate finance from the Green Climate Fund, to enhance climate resilience, gender equality and inclusion for vulnerable and marginalized populations.
"Small island developing states like Belize are disproportionately impacted by climate change with vulnerable populations including women being mostly affected. Aligned with the national priorities, the EnGenDER project will complement the Government's efforts to enhance resilience to climate change and natural disasters by leveraging the country's access to climate financing with particular focus on those at risk of being left behind." Denise Antonio, Resident Representative, UNDP Belize.
"The UK supports this Offer of Complementary Funding to Governments" under the EnGenDER project. It will facilitate access to climate finance for Caribbean countries and support them to strengthen their own disaster risk management systems and resilience to future events, to ensure that no one is left behind, especially those who are most vulnerable." Stefan Kossoff, Country Director, UK Department of International Development (DFID) Caribbean.
"The Government of Canada recognizes there are tremendous barriers to accessing climate funding for Caribbean countries and is proud to support this initiative. Recent catastrophic disasters, including a number of devastating hurricanes and now COVID-19, remind us that we need to take action and that business-as-usual approaches are no
longer an option. We also know that women, girls and vulnerable populations are on the front lines of these crises and often suffer the most and affected disproportionately, with devastating social and economic consequences that include rising rates of gender-based violence. The Government of Canada remains committed to advancing gender equality and the empowerment of women and girls, particularly those hardest hit by this crisis. It is critical that we ensure prior progress towards equality is not derailed." Rita RudaitisRenaud, Ambassador of Canada to Guatemala and High Commissioner of Canada to Belize.
To this end, this complementary funding to Government of Belize will assist in scaling-up efforts to identify social barriers impeding adaptations efforts in selected coastal communities in southern Belize. Project activities will allow for the identification of impacts and potential response options beyond the physical and environmental realm. This initiative is one step in ensuring that actions that seemed impossible yesterday are possible today and could be inevitable tomorrow. The current crisis is evidence that humanity can make the paradigm changes needed for a sustainable future.
Follow The San Pedro Sun News on Twitter, become a fan on Facebook. Stay updated via RSS