Launching the Belize Maya Calendar 2012
Saturday, January 14th, 2012
Where will you be when the world begins anew? That's the main question that resounded at the launching of the Maya 2012 Calendar of activities at the Bliss Center on the night of Wednesday January 11th. The event also included a special lecture by a world renowned Archeologist and Author, Dr. Mark Van Stone.
The attendees had an hour of entertainment by flutist Pablo Collado. Many Maya songs were rendered beautifully with the flute, and Collado certainly had a captive audience. In addition, there were performances by the Otoxha Deer Dancers. Both Collado and the Otoxha Dancers set the stage for the launching of the activities planned by the Belize Tourism Board and the National Institute for Culture and History.
In his remarks, Minister of Tourism, Civil Aviation and Culture Hon. Manuel Heredia Jr. explained that Belize represents "the Maya heartland" of a grand civilization that dominated the region. Recognizing the importance of the year 2012 for the Maya, Heredia explained that "Belize would celebrate the year with events that are sensitive for the Maya cultural traditions, a civilization that must be treated with respect and admiration for their great achievements."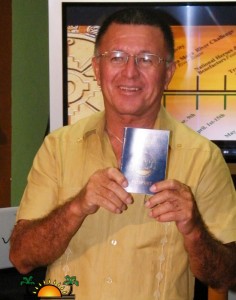 During the unveiling and launching of the Maya 2012 Calendar, Director of NICH Diane Haylock unveiled the Belize Maya Passport and presented Heredia with his copy of the passport. The acting Director of BTB Javier Paredes also took the opportunity to officially launch the 2012 website and blog.
Following the launching of the calendar, world-renowned Archeologist and Author Dr. Mark Van Stone presented a lecture. The theme of the lecture was "What the Ancient Maya actually said about 2012." The one hour lecture was packed to capacity and included a question and answer segment. Read more about this event in the upcoming issue of The San Pedro Sun Newspaper.
Photo Gallery
Follow The San Pedro Sun News on Twitter, become a fan on Facebook. Stay updated via RSS