Carnaval 2013 ends with the burning of Don Juan Carnaval
Thursday, February 14th, 2013
The final night of celebration for Carnaval 2013 concluded with a very entertaining ceremony on February 13th. The highlight of the night was the wedding of Juan Carnaval son "Talegas."

The event, meant to be very humorous, included a reading of Juan Carnaval's will followed by the traditional burning of Juan Carnaval. It's a tradition that has been a part of the island for over 100 years and is said that the burning of Juan Carnaval keeps the bad vibes away from the community.
Below is the will left behind by Juan Carnaval for the San Pedro community in 2013.
(Please note, the will and poem were submitted by the San Pedro Town Council)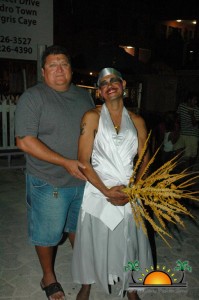 1) Yo Don Juan Carnaval, dejo mi fortuna de 2013 dividido entre mis 2 esposas y mis 10 queridas y 48 hijos. También quiero que me hagan una fiesta en mi honor con Rompe Raja cantando la canción "Como se Mata el Gusano" y "El Abejón Me Va Picar" y que vengan a mi funeral todas mis amantes las que fueron y que no fueron.
I, Don Juan Carnaval, leave my 2013 fortune to be divided between my two beloved wives and my 10 lovers and 48 children. I also want you to do a party in my honor with Rompe Raja singing the song canción "Como se Mata el Gusano" and "El Abejón Me Va Picar" and I want all my lovers to also attend.
2) La Casa que me heredo John McAfee se la dejo a Babuso, y mis chamacas se las heredo a Andre Paz, y mis 'bath salts' se los heredo a mi abogado inútil Telesforo Guerra.
The house I inherited from John McAfee I leave to Babuso, and my girls I leave to Andre Paz, and my 'bath salts' I leave to my useless my lawyer Telesforo Guerra.
3) A los lindos taxistas y choferes de vehículos les dejo un par de lentes para que vean todas las señales de tránsito y paciencia para que respeten a los peatones y ciclistas".
To all the lovely taxi drivers and the truck drivers, I leave a pair of glasses each so they can see all the traffic signs; I also leave them some patience so they can respect pedestrians and cyclists.
4) Al Alcalde Daniel Guerrero le heredo mi 7 gorras que me regalo mi vieja para que no use el mismo sombrero todo los días.
I leave the seven hats given to me by my old lady to Mayor Daniel Guerrero, so he doesn't have to wear the same hat everyday.
5) A Marion Mejia del concilio le dejo todas las pelucas de mi vieja para k deje de usar Rogaine y le recomiendo un buen peluquero CARLOS BARRIENTOS.
To Marion Mejia of the town council, I leave him all my old lady's wigs so he can stop using Rogaine. I also recommend him an excellent hairstylist: Carlos Barrientos (SPTC Councilor).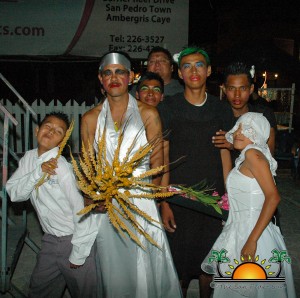 6) A los fotógrafos de los periódicos, les dejo una cámara para que aprenden a sacar mejores fotos.
To the photographers at the newspapers, I leave them a camera so they can learn to take better photographs.
7) A todos las policías les dejo uniformes nuevo y un suscripción al gym- a si van a quedar mas "fit" pero también más guapos y así el otro año pueden alcanzar a los que los pintaron.
To all the police officers, I leave them brand new uniforms and a subscription to the gym. That way, they can look handsomer and can get fit so that next year, they can actually run and catch those who try to paint them.
8) Al regidor de deportes Gaby Nuñez le dejo mis dos bolas.
To sports councilor Gaby Nuñez, I leave him my two balls.
9) Al regidor de calles Severito Guerrero le dejo una pala y escoba para que limpie las suciedades de los perros.
To councilor responsible for streets – Severito Guerrero – I leave him a shovel and broom so he can pick up after the stray dogs.
10) A regidor de transportes Kenny Brackett le dejo mis dos mulas y dos caballos con sus carretas de media vida y en escrito le dejo las nuevas leyes de tránsito.
To the transport councilor, Kenny Brackett, I leave my two mules and two horses, plus their half broken carts, as well as a written copy of the new transport laws.
11) A Wally Nuñez el regidor de policía, droga y NEMO le dejo un aparato de última tecnología para detectar a los traficantes de la droga viagra y bath salts y su número de teléfono de McAfee para que lo llame, y siga donando a la policía.
To Wally Nuñez, councilor for police, drugs and NEMO, I leave him a state of the art piece of technology so he can detect traffickers of the illicit drugs viagra and bath salts. I also leave him McAfee's number so he can call him for more donations to the police formation.
12) A Einer Gomez le dejo los vestidos de una de mis viejas para que tenga todos los años para bailar en las comparsas.
To Einer Gomez, I leave him my old lady's dresses so he can have new outfits for the next few years of carnaval comparsas.
In the end a poem was also dedicated to Juan Carnaval.
TO JUAN CARNAVAL 2013
Por un beso de tu boca
2 caricias te daría,
3 abrazos que demuestren
4 veces mi alegría
Y en la quinta sinfonía,
De mi sexto pensamiento,
7 veces te diría,
Las ocho letras del te quiero,
Por que nueve veces por ti vivo
Y 10 veces por ti muero
For one kiss on your lips
Two caresses I would give you
Three hugs would show
Four times my joy
And on the fifth symphony
Of my sixth thought
Seven times I would say to you
The eight letters of I Love You
Because nine times for you I live
And ten times for you I die.
Mayor Daniel Guerrero took the opportunity to thank the entire community for cooperating and making carnaval 2013 a success.
Photo Gallery
Please help support Local Journalism in Belize
For the first time in the history of the island's community newspaper, The San Pedro Sun is appealing to their thousands of readers to help support the paper during the COVID-19 pandemic. Since 1991 we have tirelessly provided vital local and national news. Now, more than ever, our community depends on us for trustworthy reporting, but our hard work comes with a cost. We need your support to keep delivering the news you rely on each and every day. Every reader contribution, however big or small, is so valuable. Please support us by making a contribution.
Click to Donate
Follow The San Pedro Sun News on Twitter, become a fan on Facebook. Stay updated via RSS