Pirates of Belize exhibition opened at San Pedro House of Culture
Tuesday, September 8th, 2015
The San Pedro House of Culture (SPHC) inaugurated the Pirates of Belize exhibit on Thursday, September 3rd. The exhibit includes a wide variety of information regarding pirates settling in Belize and their role with the Baymen in the process of establishing the settlement of St. George's Caye, which was the beginning of the nation. The exhibition was held as part of the September Celebrations in honor of The Battle of St. George's Caye and Belize's Independence, and will be open for view throughout September.

At the official opening, Guillermo "Mito" Paz, Director of the SPHC, welcomed everyone in attendance and invited them to tour the exhibit. "Today's exhibition is very educational, since it deals with the foundation of our country which is very much thanks to the pirates and the Baymen. The Baymen were this group of English men that came and settled in Belize between the 1600 and 1700's. These were the individuals that fought against the Spaniards, who at that time ruled most of the Western Hemisphere. The Spaniards colonized what is now Mexico, Central and South America, except for Belize," said Paz.
He then recited a story about how Belize got its name from the Buccaneer Peter Wallace and how the pirates used to attack the Spanish ships that were loaded with gold heading back to Spain. "With this exhibition we pay tribute to the Baymen who decided to stay and defend the settlement of what is now Belize, when the Spaniards were coming to take over the settlement. We also pay tribute to the free slaves that joined the Baymen from Flowers Bank in that historic battle for our freedom," stated Paz.
Before the crowd was invited to see the exhibit, Paz mentioned that there are treasures buried on the island among shipwrecks of Spanish galleons, in areas such as Rocky Point, Palmeros, and Mata area. He indicated that some of the ancient boat anchors that can be seen in some of the island's resorts and restaurants are evidence of the presence of Baymen and Spaniards that travelled our coasts.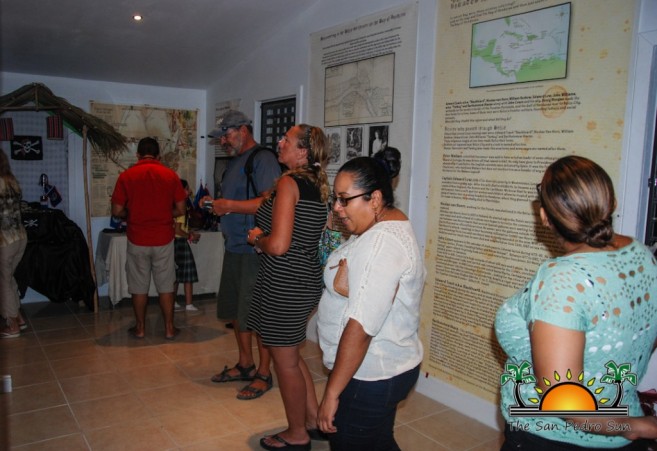 Guests enjoyed the historic exhibit, which included large posters featuring old maps with the Baymen's routes, as well as artifacts and displays portraying extensive information on the settlers and their livelihood.
The San Pedro House of Culture would like to cordially thank the National Institute of Culture and History, Councilor Gabriel Nuñez, Captain Iguanas, The San Pedro Town Council, Annies Pastries, Sandbar, Will Nuñez and Landy Guerrero, and everyone who contributed to the event.
Everyone is invited to stop by at the House of Culture and learn from the showcase that has been put together. Entrance is free.
Follow The San Pedro Sun News on Twitter, become a fan on Facebook. Stay updated via RSS