'El Gran Carnaval de San Pedro' exhibit at San Pedro House of Culture
Wednesday, February 10th, 2016
The San Pedro House of Culture (SPHC) opened their Carnaval Photography Exhibition on Friday, February 5th. The exhibit is in honour of the traditional 'El Gran Carnaval de San Pedro (The Great Carnival of San Pedro) which took place from Sunday, February 7th to Tuesday, February 9th. The exhibition depicts pictures of the 'Good Old Carnaval de San Pedro.' Unfortunately, due to a cold front blowing and a light rain, attendants enjoyed the showcased costumes and applauded the dances to the typical songs used in the traditional festivity.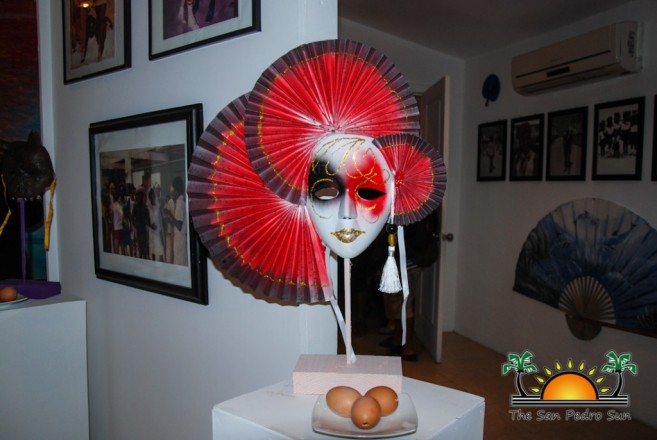 Welcoming the attendees was Director of the House of Culture, Guillermo 'Mito' Paz, who was dressed as the popular, wealthy womanizer, Don Juan Carnaval. This character is a major part of the Carnaval and the story goes that he was a libertine who devoted his life to seducing women of all ages, taking great pride in his ability and ways of life.

Inside the House of Culture, the exhibition presented the whole history of the Carnaval from the Mascaradas, to the comparsas (dancing on the street) to the masquerade parties and Juan Carnaval. "This is a portrayal of this historic tradition that was brought to Belize by our ancestors over a hundred years ago. The Exhibition is designated to give everyone attending that feel of the carnaval in the older days, a tradition that continues to thrive through this modern age. Everyone is invited to come and view this photographic exhibit which indeed will bring back old carnaval memories and get to appreciate the tradition even more," said Paz.

Many of the ethnic groups identifying the carnaval were showcased by cheerful participants. They represented the chinitos (Chinese), the inditos (the Indians), the hippies, the cubanitos (Cubans), and las negritas with colourful and well done outfits. The presentation could not be complete without 'El Torrero' (Bull fighter), who with a red cape challenged a replica of a bull.

The exhibition will be on display for the rest of February. Everyone is invited to visit the SPHC and travel back in time through the pictures of this one of a kind photographic display of 'El Carnaval de San Pedro.'
Located on Angel Coral Street, the SPHC opens Monday to Friday from 8:00AM to 5:00PM.
Follow The San Pedro Sun News on Twitter, become a fan on Facebook. Stay updated via RSS