Belize Oil Production in Decline by 50%
Saturday, October 27th, 2012
Submitted by Glenn Tillett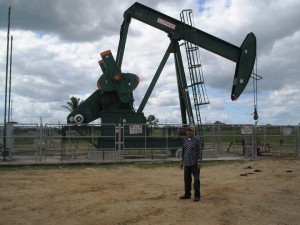 Spanish Lookout, Tuesday, October 24th, 2012 – If it wasn't for the robust flame from the flaring of gas from the extraction and separation operations at Belize's first producing oil field a visitor could be excused for thinking at first glance that they were on a college campus. The peaceful almost bucolic rural scene is only occasionally interrupted by heavy equipment, mostly trucks, and workers in overalls. Most of the time it is the clerical and white collar workers dressed more like college students or in exercise clothes who appear in sight.
I had thought that with persistent reports of a sharp decline in oil production there would be visible signs of concern if not alarm, here at Belize Natural Energy's operations headquarters and oil field but there was no such evidence during my visit today. Instead most of the staff who answered freely when questioned said that they did not feel alarm because in their view there was no reason for concern.
In an interview Belize Natural Energy's marketing manager Daniel Gutierez confirmed that production had fallen from 5,000 barrels per day in 2008, by nearly half to just 2,600 barrels per day.
Gutierez said that despite having 13 wells operating at Spanish Lookout, and four more at Never Delay, production has been in gradual decline and the company's executives and technicians did not know when the decline would stop. They were confident, however, that at some point it would stop.
When the field was discovered in 2005, initial estimates were that it had 18 million barrels of oil. Two years later that was revised upward to a 40 million barrel reserve. Belize Natural Energy (BNE) may have extracted approximately five million barrels from the field over the last six years. Using the industry standard of a 30% recovery factor the experts and the company believe that it will be in operation at Spanish Lookout and Never Delay for several more years.
Most economists credit revenue from Belize's nascent oil production industry as the primary factor in helping the nation weather the bad economic conditions of the last several years. The bounty from the discovery impacts in many areas of the economy and not only on the Government's balance sheet. Services and products providers of all description are numbered among the industry suppliers and they as well as a work force of nearly 400 persons also benefit directly from the discovery and subsequent production of oil in Belize. And despite the decline in production, higher world market prices for crude oil have not meant a proportionate decline in revenues.
"Sustainability is a function of where the market is relative to volume and price," Gutierez notes. Still the decline does mean less revenue for the Government and people of Belize.
There has been no significant retrenchment of the BNE workforce. Gutierez admits that there is some retrenchment by attrition but is firm that there are no plans to scale back. He estimates that the workforce is perhaps 6-7% smaller. Where the company is hurting, he opines, is in the area of exploration.
BNE spent more than $100 million on exploration activities since the discovery of the Spanish Lookout field in 2005, but today it is not one of the 17 oil companies exploring for oil literally all over the length and breath of the nation. When its exploration licenses expired on January 1st, 2012, it was forced to cease all exploration activities because the Government had chosen not to renew them, and had in fact awarded the blocks they had been exploring to Perenco Limited, a Guatemalan company.
The decision impacted nearly 300 workers who had been employed, albeit on a contractual basis, in its search for more oil. Today the only company to have found oil in commercial quantities in Belize has been forced to the sidelines and it does not know why.
Despite the adverse decision it continues to provide a means of livelihood for almost 400 persons, 96% of whom are Belizeans, and it is confident that it will be able to continue to do so for several more years, perhaps as long as until 2031. It is optimistic that it will be able to continue to provide economic viability for the 28 trucking companies that transport the oil 117 miles from Spanish Lookout to the port at Big Creek, now only once per week, where every 21 days a tanker is loaded for transportation to a refinery in Nederland, Texas, USA.
Not all the oil extracted and separated by BNE is exported. Mennonite farmers and industrialists, the citrus processors, poultry farmers, shrimp farms, poultry producers, alcohol distillers and road construction contractors all combined purchase as much as 5% of BNE's production.
The company also sells the liquid petroleum gas, mostly butane mixed with some propane that it separates from the crude oil extraction operation. It currently supplies 20% of the market, down from 30% just a year or so ago, at a price that is on average $30 less per 100lbs, than the Central American importers who dominate the market.
At what we now know was its heyday, for a brief period in 2008 following the washing away of the Kendall Bridge by Tropical Storm Arthur, BNE was producing so much oil that it has to export to neighboring Guatemala. Back then there was talk of producing electrical energy from oil as well as possibly implementing refining operations. Indeed Blue Sky, a Belizean company did produce and sell some distillate products from crude.
Back then there was much optimism that even more oil would be discovered, perhaps enough to at least make Belize a net user of fossil fuel products. Today that dream is still alive but perhaps more illusory. Certainly BNE will remain hopeful that they will get their chance to continue looking for oil. Certainly they will continue to apply for exploration blocks as some of the contracts expire. Belizeans too must hope that the decline will be arrested soon and that it does not fall to a point where extraction and production operations cannot be sustained.
Follow The San Pedro Sun News on Twitter, become a fan on Facebook. Stay updated via RSS