Social Investment Fund to inaugurate Guinea Grass Library & Multi-purpose Center
Wednesday, March 12th, 2014
Belmopan, Wednesday March 12, 2014: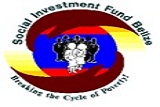 Eight hundred children in the village of Guinea Grass, Orange Walk District, will now enjoy a safe community space promoting reading, culture and knowledge through a project implemented by the Social Investment Fund (SIF) in collaboration with the Ministry of Education, Youth and Sports through the Belize National Library Service and Information System (BNLSIS), and the community of Guinea Grass.
The Guinea Grass Multi-Purpose Center, which was financed by the Government of Belize by a loan provided by the Caribbean Development Bank (CDB) at a total cost of $368,099, houses the community library, the Village Council, the Water Board and sewing facility.
The library is equipped with furniture, books and computers made available by SIF. SIF was also instrumental in providing sewing equipment, sewing and small business/entrepreneurship training to men, women and youth in the village.
The project represents SIF's continued commitment of realizing its Mission by implementing social infrastructure projects and programmes that provide basic services to the most severely affected groups aimed at reducing poverty in urban and rural areas across Belize.
Speakers at the inauguration will include the Hon. Patrick Faber, Minister of Education, Youth and Sports, Chairman of the Village Council, Mr. Jose Hernandez, Executive Director of the Social Investment Fund, Mr. William Lamb, and Chief Librarian of BNLSIS, Mrs. Joy Ysaguirre.
The event will commence at 10 a.m. at the Guinea Grass Multi-purpose Centre, Guinea Grass, Orange Walk. The media is invited to attend and provide coverage.
Follow The San Pedro Sun News on Twitter, become a fan on Facebook. Stay updated via RSS