YJ's Deli at Saca Chispas raises concerns
Monday, May 5th, 2014
For months, residents in San Pedro Town have been wondering about the status of YJ's food deli that is located at the corner of Black Coral Street and Angel Coral Drive. The deli belongs to Joel Chi, driver of the Minister of Tourism, Culture and Civil Aviation and Area Representative Manuel Heredia Jr. It was erected two years ago with the sole purpose of providing food for the construction workers of the San Pedro Sunset Boardwalk Project.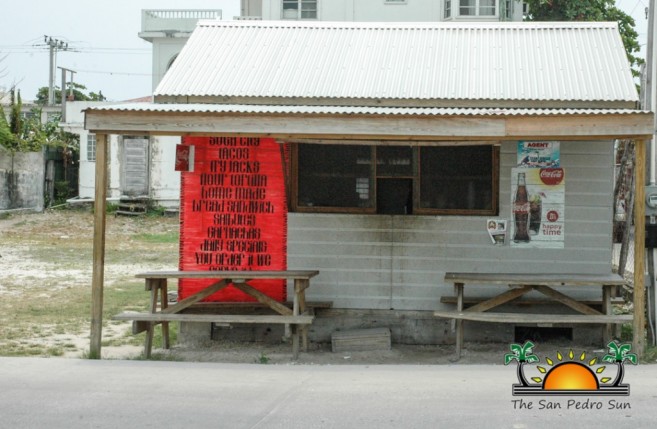 The erection of the deli on public land was given the green light through the Sustainable Development Project (STP), which fell under the Ministry of Tourism. While also selling food for profit to the wider community, it has never paid municipal tax. In fact the deli has never been registered in the San Pedro Town council tax data base.
When questioned about it, Mayor of San Pedro Town Daniel Guerrero said it was a decision made through the STP project and not the local municipality. He did confirm that indeed no fee has been collected for the use of such prime property. The Mayor also said that under the agreement made through the STP, the owner of the deli agreed to vacate the property after the construction and inauguration of the project. "When the STP project kicked in, that deli was built to provide food for the workers. What I do know is that the owner was quite aware that they must move out since the project has been completed, as was the agreement under the STP," said Guerrero. The Mayor also said that while the owner will be served with a formal notice as agreed upon by the STP, they have up to three months to vacate the property.
When asked if there was any truth to the claims that the deli was benefiting from utilities connected to the municipality, the Mayor categorically denied it. "Both the deli's water and electricity is connected to a meter belonging to Romel Burgess, the contractor that executed the project," said the Mayor.
The San Pedro Sunset Boardwalk project was inaugurated on March 14th, which gives the owner up until June 14th to vacate the area.
Follow The San Pedro Sun News on Twitter, become a fan on Facebook. Stay updated via RSS