Less than 0.1% comes back to Belize's biggest tourism earner
Saturday, July 19th, 2014
For years residents on Ambergris Caye have been asking successive governments for more returns from Central Government, especially considering the economic contribution the island makes to the country through tourism revenue. In fact, the business sector on the island has been very critical pointing out that the Government of Belize (GOB) is not doing enough to "protect the goose that lays the golden egg." The People's United Party (PUP), through their local candidates on Ambergris Caye, made a public announcement that if their party forms the next government, Ambergris Caye "will get its fair share of the economic pie."
The announcement was made on Friday July 11th on a local radio and television show on Ambergris Caye. The PUP San Pedro Town Council candidates and the PUP Standard Bearer for Belize Rural South Elito Arceo discussed their campaign platform. "After several discussions with Party Leader Honorable Francis Fonseca, he has agreed that when PUP forms the next government, the island will get an increase in percentage from all the taxes collected from Ambergris Caye," said Arceo. "Those monies will help address the issues affecting the island."
The economic contribution of Ambergris Caye is huge and to appreciate how much money is generated on the island, it is important to point out some statistics. San Pedro has 154 registered hotels and resorts out of a total of 765 in the entire country. That is equivalent to 1,774 rooms out of the 7,210 registered in the entire country. According to government figures, the tourism industry is the second largest revenue earner for the country (second to agriculture) and the main economic driving force for Ambergris Caye. Tourism contributed an estimated $1.2 billion to the country's economy in 2013. It is estimated that 46 % of that revenue collected by the GOB was contributed through the economic activities on Ambergris Caye. That figure is approximately $552 million. GOB's sources of tourism revenue are through accommodation taxes, Hotel Application and License Fees, Live-Aboard Taxes, Cruise Head Tax, Tour Guide Licensing Fees, Tour Operator Licensing Fees, Qualified Retirement Program [QRP] Fees, General Sales Tax on Restaurant and Bar Services and Tours, Business Tax on Accommodation, Restaurant and Bar Services and Tours and Business Tax on the Sale of Condominiums.
Those figures do not reflect General Sales Tax (GST), business tax, import duties and Social Security contributions from other business on Ambergris Caye. For example a medium-sized business that employs five people on Ambergris Caye with an annual gross profit of $360,000 can pay up to $30,000 in GST. In addition to business taxes and Social Security, one business alone can pay as much as $37,500 to the government coffers annually.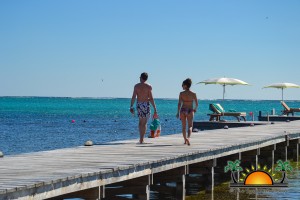 But for the world's #1 Island (according to TripAdvisor), and despite contributing so much, the island sees much neglect and countless issues affecting it. According to the Leader of the Opposition Francis Fonseca, the promise made by his party reflects the new economic reform agenda of the PUP for 2014 and beyond. "We need a new, more progressive and equitable budgetary process that allows communities like San Pedro to realize a greater, fairer return on the revenue it generates for the National Economy. This means that we must review and reform the tax structure in consultation with the private sector. We must review GST, Business Taxes, Hotel Taxes, Duties, and all other taxes on inputs into the Tourism Sector to ensure that we are providing incentives for growth and new investments in tourism," said Fonseca. "At present, the allocation of Government revenue under the Budget each fiscal year is largely unplanned and inequitable. This has resulted, for example, in this United Democratic Party (UDP) government spending more than $100M on projects in Belize City while many rural communities remain neglected, some even without the basic necessities of water and electricity."
According to the Fonseca, the PUP is of the strong belief that taxes should never be a factor to growth and development. He said that his party views the private sector as partners in development, and as the drivers of economic growth. "It is our objective as the next GOB is to ensure that San Pedro gets a greater share of the revenues that it generates for the national economy. This must be returned in the form of infrastructure development, investments in health, a new fully equipped hospital, more education opportunities and better facilities, more effective and efficient public services, better access to technological services, land development, protection of the environment etc."
In speaking about the promise made by Arceo, Fonseca said, "For far too long, San Pedro has given far more than it has received and while this will undoubtedly continue to be the case for some time, we must create a more equitable formula that will see San Pedro and San Pedranos benefit more significantly from government revenues. This is the solemn commitment and pledge of the next PUP Government."
But how much is GOB's direct contribution to the island?
Beside expenses to run government offices, GOB's direct financial contribution to the island has been limited to the $69,000 annual subvention to the San Pedro Town Council (SPTC). Last year, because of the deterioration of streets due to excessive rains, GOB contributed $397,000 to SPTC, bringing GOB's direct contribution to $466,000 for 2013. However the SPTC, collected $5.6 million through local taxes, and spent $5.4 million in the upkeep of the town last year.
The community and business sectors, having been frustrated by the issues that could possibly affect the tourism fabric on Ambergris Caye, have embarked on several small scale projects. Those projects include finding funds to help with the Dr Otto Rodriguez San Pedro PolyClinic II and the construction of a new police barracks that will address the urgent housing needs for the local police formation. Despite being promised, those projects have not received support from the Central Government.
Follow The San Pedro Sun News on Twitter, become a fan on Facebook. Stay updated via RSS