PEMEX Engineers in Belize, is there a large oil find?
Thursday, December 18th, 2014
There has been no official word from the Government of Belize, but The San Pedro Sun understands that 25 Mexican executive oil engineers were recently in Belize. The engineers are from the Mexican state-owned oil company Petróleos Mexicanos (PEMEX), which translates to Mexican Petroleum. They were flown on Sunday December 14th from the International Mexican Airport in Chetumal, Quintana Roo to the Phillip SW Goldson International Airport in Belize via six helicopters.
Multiple media outlets in Mexico are reporting that the PEMEX engineers came all the way from Campeche, Mexico's largest oil state. They apparently came to Belize to look at a possible oil find in northern Belize in the Orange Walk District. Mexican media outlets are reporting that the engineers were in the country as part of a special request by Belizean authorities following the possible discovery of a large oil deposit.
"According to the information gathered, there was a petroleum deposit discovered by a Belizean company in Orange Walk, though they lack the equipment to thoroughly analyze such properties. They requested the support of experienced geologists in the field from PEMEX," reported El Diario de Quintana Roo.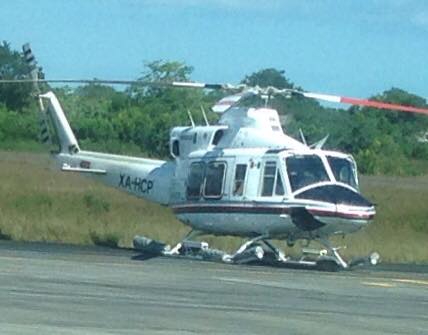 The six helicopters from PEMEX had registration initial XA-HCN, XA-HCM, XA-HCQ, XA-HCL, XA-HCP and XA-HCK. According to the reports, the Mexican engineers left the country after a full day in the oil field on the evening of Monday December 15th. While in the fields, they performed the first reviews of the finding on site and they are expected to do more extensive work in the near future.
Although reports were sketchy, Mexican press indicated that the experts were received by both oil investors and government authorities in the country. The engineers are expected to return with equipment, also via the Chetumal airport, that will allow them to do more specialize testing of the possible oil deposit discovered.
While in Belize, the engineers also performed a revision of maps that are supposedly oil sites. However, it is expected that by early 2015, more PEMEX staff will have a longer presence in Belize.
GOB has made no formal announcement of the possible oil discovery or the associated visit of PEMEX engineers. However, earlier this year, GOB promised public officers their salary adjustment, which Prime Minister Dean Barrow said would be sustainable in the long term by a possible oil find in the Orange Walk District. At that time, PM Barrow had hoped that the discovery was in commercial quantity. Since then, there has been no official update and it is uncertain at this time that it may be the same possible oil find.
Follow The San Pedro Sun News on Twitter, become a fan on Facebook. Stay updated via RSS