Land owners claiming GOB scammed them of beach front property
Friday, May 1st, 2015
Foreign buyers of land in Northern Caye Caulker are stunned after finding out that their perceived beach front property is not actually bordered by the seashore. Reports are that at least 25 land owners who allegedly purchased beachfront property were actually scammed, as parcel maps show that there is actually one property in front of their land. The land that is being identified is actually on the beach reserve and seabed. Among those affected by this issue is a retired British couple who have spoken publicly on the incident.
British Retiree Sydney Higgins says he decided to purchase land in Caye Caulker back in 2005. "We visited Caye Caulker several times before and like many other people, fell in love with the place," said Higgins. As such Higgins and his wife, Anna Higgins, invested in a beach front property on the Northern portion of Caye Caulker for $120,000US. When purchasing the land Higgins saw the parcel map that indicate the lot as beach front, but later in 2012 when they were prepared to develop the property, they were surprised to find out that their front yard was actually someone's back yard.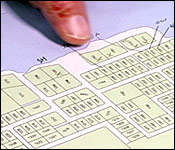 "We were amazed that it was possible for there to be another plot of land in front of ours. There was no other plot of land in front when we bought it. And to date we cannot see any land in front of ours. All that is there is some trees, mangroves and beyond that sea. The plot of land that they are claiming to be the actual beach front property is in fact under water and we can't understand how it is being sold as a beach front property," said Higgins. Further investigation proved the inconsistency as the parcel map of 2005 showed the Higgins' property as beach front and everything beyond that as beach and sea. But the 2015 versions states differently, as it shows property in front of the Higgins' land, a parcel that is currently underwater.
Attorney-at-law Andrew Bennett, who is overseeing the Higgins' case, indicated that this practice is common on Caye Caulker. "The Higgins concern is just one of many. We have 14 clients who have the same experience, as it relates to land that is being surveyed in areas that fall on the sea bed. Every land owner and person who owns property on beach front in Belize should be concerned. It's like in the blink of an eye, you wake up and the property that you think is beach front, is no longer beach front," said Bennett.
Most alarming is that the parcel maps are sanctioned by the Government of Belize (GOB). For two years, affected property owners have hired attorneys to press the GOB for a ratification, but so far nothing has changed. "Some of the officials at the Lands Department have stated they do understand our clients concern, but that the adjustment in the map needs to come from the Cabinet," said Bennett.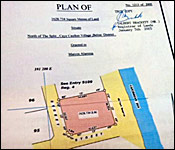 While Commissioner of the Lands and Survey Department Wilbert Vallejos says that the situation is still under investigation to see if the land identified is indeed beach reserve, landowners are becoming frustrated at the lack of results. "The lawyers here have been looking at it on our behalf for well over two years. But nothing has happened. As far as I understand, the Registry of Lands keeps on saying that it's being looked at but in reality, again as far as I understand, it seems that these non-existent plots have already been sold," said Higgins.
On Friday, April 24th, the Ministry of Natural Resources and Agriculture issued a statement making clarification on to the matter. "Through the Land and Surveys Department, we take this opportunity to clarify to the general public the allegations made regarding surveys that may include the beach reserve on Northern Caye Caulker. The Ministry has launched a full investigation in the matter of the allegations made on April 23, 2015, regarding surveys that may include the beach reserved. Preliminary investigation suggests that the beach reserve had not been compromised. However, the results of the full ongoing investigation will provide confirmation or otherwise," said Vallejos in the release.
Vallejos also stated that, "If it's something that needs to be fixed, we will fix it."
Follow The San Pedro Sun News on Twitter, become a fan on Facebook. Stay updated via RSS