San Pedro to get $13 Million Internet SEUL by BTL
Wednesday, August 17th, 2016
Sanpedranos will soon have twice faster Internet and access to light-speed bandwidth by July 2017, with the installation of the SEUL (Strategic Evolution Underwater Link) – a fibre-optic cable by Chinese telecom giant Huawei, through a Bze$13 Million contract signed by Belize Telemedia (BTL) at the Renaissance Tower in Belize City on Monday afternoon, August 15th.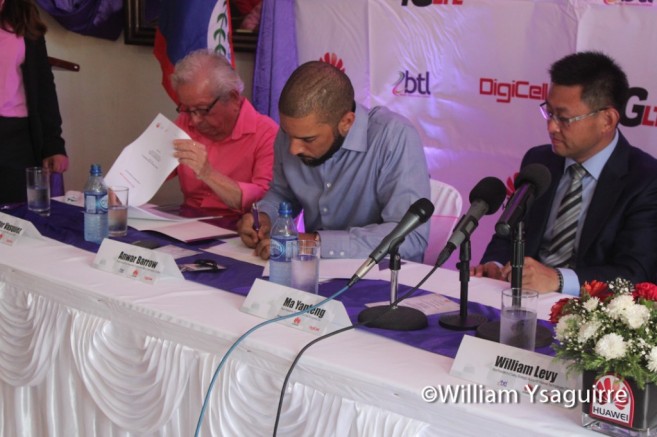 Nestor Vasquez Sr, Chairman of BTL's Board of Directors, and Anwar Barrow, Chairman of BTL's Executive Committee, signed the agreement with Ma Yanfeng, Vice President of Huawei Marine Networks Co. and William Levy, Vice President of Sales for Huawei Technologies China.
BTL has heard San Pedro customers and visitors requests for faster internet speeds and bandwidth, and Anwar Barrow and the company's immediate response is to double the speed of the existing system by microwave transmission from a dish on the tower at Esquivel Telecom Center in Belize City, to a dish in San Pedro. Barrow said the present speed of 1.4 Gigabytes per second will be increased to 3.0 Gb/s within a month.
This is nowhere enough to offer the speeds of 10Mb/s to 150Mb/s which visitors have become accustomed to at home in Europe and the United States, requiring the 32 Terabytes/second speed that a fiber-optic cable can offer. Barrow said this will meet Isla Bonita's broadband needs for the next 15 – 20 years, allowing Sanpedranos to have all the Internet broadband width they could want or need. He said BTL is already beginning the underwater surveys for where the cable will be laid on the seabed, so that they can get any required environmental permits.
Huawei's Ma Yanfeng said the fibre-optic system will have a total capacity of 32 Terabytes/second, which will be more than a 10,000 times the 3.0 Gb/s capacity of the microwave link after it is expanded next month.
Huawei is also providing BTL with very favourable financing of the contract; Chairman Vasquez did not cite a precise figure, saying only that the interest rate was an unbelievably good deal.
Barrow said BTL is already converting its existing land line network on the mainland from copper to fibre-optic cable, which will allow BTL to offer its internet customers much better bandwidth with better efficiency at greatly reduced cost; although this line replacement will take some time. Huawei is also the contractor to deliver DigiCell's long heralded 4G LTE wireless Internet service, in which BTL has invested $50 Million.
Follow The San Pedro Sun News on Twitter, become a fan on Facebook. Stay updated via RSS