Butane gas prices go up AGAIN
Thursday, April 12th, 2018
For the second time this year, the price of Liquefied Petroleum Gas (LPG) has gone up. On Friday, April 6th, the cost of a 100-pound cylinder of LPG – also known as butane or propane gas – went up $10 across the country, including Ambergris Caye. However, island residents are aware that prices on the Cayes are higher than those on the mainland due to the cost of shipping. This new increase is expected to have a financial impact on the gastronomy industry, as the cost of food preparation will come at a higher cost.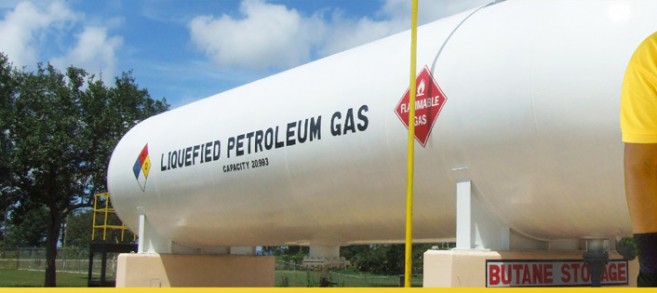 According to the Belize Bureau of Standards (BBS), the $10 increase in LPG prices in Belize are due to the increasing cost of LPG in the international market, initiated by importers. The first increase this year was announced in January when the BBS announced an increase in butane gas by $7 across the country. This rise took the price of a 100-pound cylinder to over $100, forcing Belizeans to adapt to this new change.
With this latest price increase, the new prices per 100-pound cylinder across the different municipalities are as follow: Ambergris Caye went up from $148 to $158, Belize City, went up from $104 to $114, Belmopan City and San Ignacio Town went from $106 to $116. In Benque Viejo del Carmen Town went up from $107 to $117, Orange Walk Town went up from $105 to $115, in Corozal it went up from $104 to $114, Dangriga went up from $108 to $118 and Punta Gorda went up from $109 to $119.
Some restaurant proprietors on Ambergris Caye told The San Pedro Sun that due to the increase in business during this peak tourism season, they can manage not to increase their prices. However, when the season slows down in the upcoming months, they believe it will be more difficult to absorb the LPG price hike.
The increase in butane has been a constant call by importers, who in 2007 even went on strike to force the Government of Belize (GOB) to give in to their demands. Since January 2017, GOB has conceded to every demand by importers, resulting in an almost 20% overall price increase.
Additionally, the Controller of Supplies explained that the prices established for imported LPG are based on the mixtures of 70:30 (Propane: Butane). This can only be done as per requirement of the Belize National Standard Specification for LPG. For more information, the BBS can be reached at 822-0446 or via email [email protected].
Follow The San Pedro Sun News on Twitter, become a fan on Facebook. Stay updated via RSS