Belize invited to Mexico's Pro Agro-Innovation Expo
Thursday, October 10th, 2019
Belizean agricultural entrepreneurs, businesspeople, farmers, and agro-processors have been invited to participate in the upcoming Pro Agro-Innovation Expo, which Mexico's National Chamber of Commerce, Services and Tourism (CANACO-SERVYTUR) will host at the Chetumal City Convention Center on October 23rd through the 25th. CANACO-SERVYTUR Vice President of Border Trade Thelmo Manuel Rejon Montalvo encouraged the food producers and manufacturers to bring their products to the expo, as chefs from a number of hotels would be attending the Expo, and it will be the ideal opportunity to introduce them to the quality of Belizean sauces, chocolate, and other processed food products.


Bobby Lopez of Hummingbird Rattan Furniture, Julio Saqui of Che'il Mayan Chocolate from Mayan Center, Stann Creek, ASR/BSI's Farmers' Relations Manager Olivia Avilez, and BSI public relations officer William Neal all expressed an interest in showing off their wares and services at the Expo. Lopez noted that there was one bureaucratic hurdle to overcome, in the Customs formalities to introduce even sample items into Mexico for the Expo and requested CANACO-SERVYTUR's assistance in expediting the paperwork.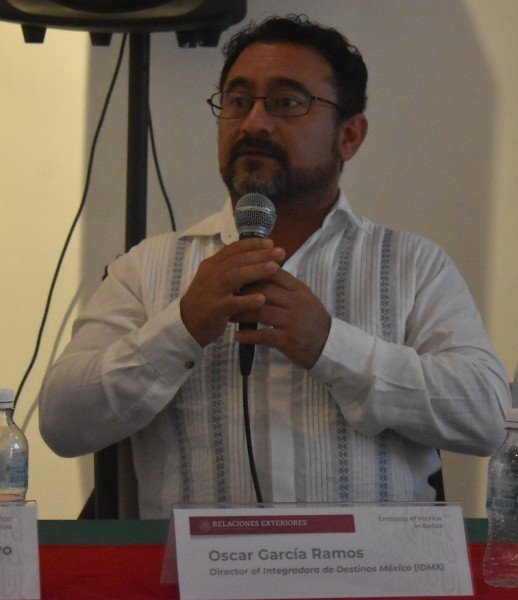 CANACO-SERVYTUR-Chetumal president Eloy Quintal Jimenez apologetically admitted that getting the requisite permits and exemptions to cross the sample items into Mexico without paying any duties or taxes, might be very difficult at such short notice. He promised that the entry of Belizean sample products into Mexico would for the next Expo.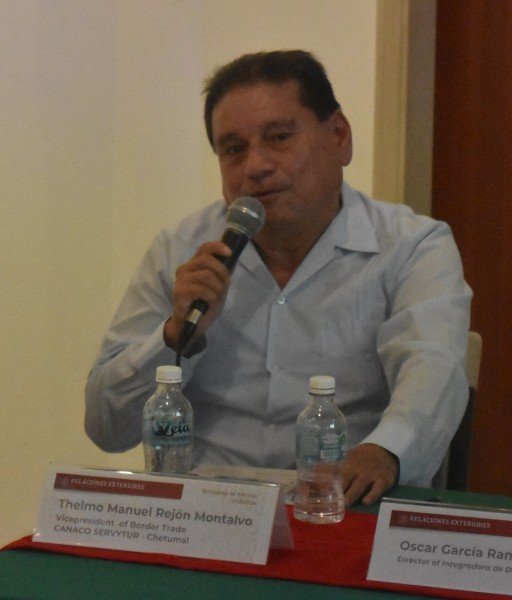 Oscar Garcia Ramos, director of Mexico's Destination Integrator (IDMX), was invited to see what new products Mexican producers would offer at the Expo, and for Belizean producers to bring brochures and other images online or otherwise would help to show the Mexican buyers what Belize has to offer, so they might form trade partnerships.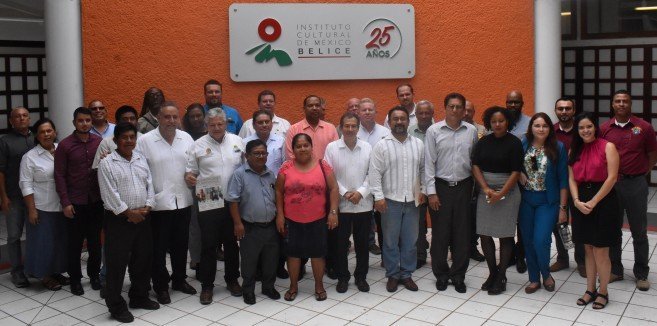 Ambassador Quesnel noted that Belize is in the process of finalizing a partial scope trade agreement with Mexico to formalize trade between the two countries, for some products which are already part of informal cross-border trade, such as beef.
BELTRAIDE Executive director Leroy Almendarez Ph.D. led the Belize delegation and thanked Ambassador Quesnel and the CANACO-SERVYTUR delegation for the invitation. He also expressed the desire to see the partial scope agreement realized, to put trade with our northern neighbor on a more formal footing. He also invited the Mexicans to sample Belize's Mayan chocolate, which is of such high quality that it has been internationally recognized and much appreciated when he took samples to European trade expos. He said European buyers found it to be comparable to the quality produced in Europe.
John Pollard, a ginger producer from Orange Walk, also expressed interest in promoting his top-quality product to Mexican buyers. Other participants of the business encounter included the representatives of the Belize Marketing and Development Corporation, Mennonite cattlemen, grain, and soybean farmers.
Follow The San Pedro Sun News on Twitter, become a fan on Facebook. Stay updated via RSS