Belize Business Barter Exchange proposes cashless transactions
Sunday, June 14th, 2020
A new method of doing business is being introduced to the Cayes (Ambergris Caye and Caye Caulker) under the name Belize Business Barter Exchange. Entrepreneurs struggling with the effects of the COVID-19 pandemic are being encouraged to explore the ancient world of barter, which was once the primary way of business before cash was introduced. This new norm will allow people to 'trade' or 'barter' goods and services to others without the need to use cash, but rather 'trade dollars' for payment.
This initiative gained force in March when the first cases of COVID-19 were reported in Belize, and the country went on a nationwide lockdown. Many businesses, particularly in the tourism sector, felt and are still feeling the brunt of such a shutdown, which has demolished the travel industry. Many of these businesses are currently trying to save as much cash as they can to continue operating and pay their staff.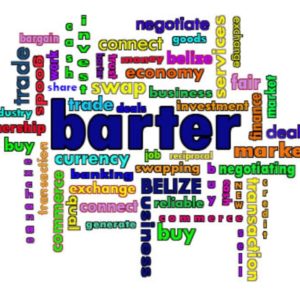 Spearheading the project is island resident Glenn Schwendinger, who through Belize Business Barter Exchange hopes to be able to stimulate many trades and businesses and create a trade economy without the use of cash. Schwendinger told The San Pedro Sun that this could be the new system for the future whereby using local goods, services, skills, and products to reach and attract new customers, move surplus inventory, and unnecessary or unneeded items. This provides the opportunity to acquire the desired goods and services in exchange. For example, a hotel or individual needs a boat mechanic service, an arrangement is made, and the work gets done. The mechanic will not receive a cash payment, but trade dollars that can then be used to buy some food or pay a bill to another member.
The barter program counts with a barter exchange coordinator who manages transactions, and members are provided with a monthly statement. According to Schwendinger, the barter initiative has over 50 members so far on Ambergris Caye and Caye Caulker. They are hoping to spread the idea to other parts of the country.
Barter memberships organizations have never ceased operating and are currently working efficiently all over the world. This method saves members cash that can be used for other expenses. With the current global crisis, businesses still need goods and services or have them to offer. This method is expected to create an extensive membership network of goods and service providers, again without the need for using cash.
How to become a member of the Belize Business Barter Exchange
It is an easy process. Think about the skills or goods/services you may have as an individual or establishment. Then complete an application form and get in touch with a member of the organization, known as a trade broker, who will walk you through and assist you with details of the membership. Of importance, there are no fees associated with joining.
Belize Business Barter Exchange invites interested parties to call 606-6677, email them at [email protected], or via their Facebook page at https://www.facebook.com/Belize-Business-Barter-Exchange-104399431307064/ for more information.
This old method is considered a multi-billion-dollar system in the generation of trade dollars around the world.
Follow The San Pedro Sun News on Twitter, become a fan on Facebook. Stay updated via RSS