The cost of chicken to increase on Monday
Saturday, October 29th, 2022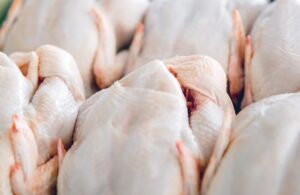 The prices of poultry (chicken) and poultry products will experience an increase of 6.5% as of Monday, October 31st. The rise is due to the high prices of grains (corn and soybean) used in chicken feed on the market.
The adjustment in the prices was announced by the Belize Poultry Association (BPA) on Friday, October 28th. The association's manager Armando Cowo told The Sun that the continued increase in the grains used to supply feed for the chicken farms had forced them to make such price adjustments. He noted that the 6.5% is the only authorized adjustment, and retailers should not go beyond this increase.
Cowo added that all the corn and soybeans used for feed in Belize are acquired from local farmers. However, the cost of these grains has increased, triggering an increase in poultry products. He shared that the prices per pound of corn are currently at 0.38 cents while the pound of soybean is at 0.60 cents.
The 6.5% increase applies to all consumers countrywide, including San Pedro Town, where goods tend to cost more. Therefore, consumers should use this information and avoid any higher prices. Currently, in San Pedro at Quality Poultry, the retail prices per pound for their products are as follows: Quality Large $2.68, Quality Medium, and Small $2.80. For wholesale, starting at 25 pounds, Quality Large is $2.53, and the medium size at $2.65 per pound.
Meanwhile, at Caribbean Chicken, the retail prices per pound for a large and extra-large chicken is $2.86 and $2.92 for the medium size. The wholesale prices per pound for orders 25 pounds and above are $2.66 for the large and extra chicken and $2.72 for the medium size.
The 6.5% increase to these prices will be added once the different poultry outlets receive confirmation from their headquarters on the mainland.
Poultry is a primary staple in Belize, and this increase in an essential source of protein concerns families on fixed incomes. The BPA will continue to monitor the grain market for a possible price decrease in the future. In the meantime, the association said the increase in poultry prices is inevitable.
Follow The San Pedro Sun News on Twitter, become a fan on Facebook. Stay updated via RSS