The San Pedro Sun turns 22; Editor Tamara Sniffin reflects on the last nine years
Thursday, March 14th, 2013
On March 14, 1991 the first issue of The San Pedro Sun was printed. Founded by Bruce and Victoria Collins, the paper was created on a word processor and pages were cut and pasted together before being sent over to the mainland for printing. In 1996 the paper was purchased by Dan and Eileen Jamison who now own the popular DandE's Frozen Custard Shop on Pescador Drive. Ron and Tamara Sniffin later purchased the paper from the Jamison's in 2004 and according to The San Pedro Sun's editor Tamara Sniffin, the paper has seen many changes over the years.

In celebrating the 22nd birthday of The Sun this week, Sniffin took the time to reflect on the last nine years and the growth the paper has seen. "It's hard to believe that when we first bought the paper we were still using a light-table to cut and paste the page layouts," Sniffin recalls. "We would have to have all the pages ready to go by 7am on Wednesdays, and we would work into the wee hours of the night. We would place the pasted pages into a flat cardboard folder and have our cab driver Mr. Vic pick it up first thing on Wednesday morning. He would put the folder on Tropic Air and then the printers in Belize City would pick it up at the airport and ready them for printing. If we were running late for some reason or missed the plane our whole schedule was off, it was a process that had lots of room for problems to happen. A flat tire could mean the paper was coming out late the next day! Over time we helped our printers set up an email account and taught them how to accept emailed files…there was only one person there who knew how email worked and we sure got to know Julio quite well! We finally got to the point where we could email over PDF pages and the dynamics of our deadlines changed drastically. It also meant we no longer had to cut and paste our pages which we were delighted about, and I think we actually had a burial ritual for the light-table the last day we used it!" (By burial ritual, of course, this meant there were lots of cocktails to celebrate!)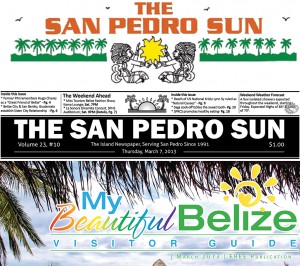 With the size of the paper and distribution soon doubling, The Sun saw the need for an island visitor guide and launched their new, weekly San Pedro Sun Visitor Guide publication in December 2004. With the help of layout designer and writer Mary Gonzalez, now Associate Editor,the paper continued to grow into a thriving media house. The Sun has become a respected online news source for San Pedro and their popular sanpedrosun.com website is one of the most visited websites in Belize. Receiving international attention with their investigative reporting, senior news reporter Jorge Aldana has put The Sun on the global 'news' map and was recently interviewed live via telephone on CNN News when covering the McAfee/Faull murder story.

According to editor Sniffin, San Pedro is the only community in Belize besides Belize City to have a weekly newspaper. "This interesting fact occurred to me while I was traveling on the mainland a few weeks ago and I have been pondering the significance of this ever since," stated Sniffin. "Although the larger media houses in Belize City do their best to report national news, it just isn't the same kind of coverage a local paper like ours offers. I wonder, how do people read about the BBQ fundraiser for a neighbor in need, see adorable photos of their children when they perform in a school program, learn about the volunteers who are helping the community or find out what doctors are on-call at the nearest PolyClinic that weekend? It's also made me wonder what other news are they missing, like when a string of robberies occur or someone has been arrested for selling drugs, or the local politician is questioned about shady land deals? How many newsworthy stories go unreported day after day? Yes, there are online news sources but really, how many homes in the remote villages of Belize have internet? Of course there is the 'coconut wireless' or word of mouth, which is the oldest form of news media on the planet, but we all know how accurate that is…the fish gets bigger with every telling of the tale!" Sniffin went on to say, "I also wonder without the watchful eye of the media, who is working to keep community leaders and stakeholders honest? As the people's 'watchdog' the local media has their eyes and ears wide open at all times for news, and no one wants their dirty laundry aired in the paper. The local media is also the 'go to' source when residents experience problems or situations that they feel need addressed. If there isn't a newspaper in their community who do they report to? How frustrating it must be for people in these communities to not have a voice or an outlet to 'expose' certain wrong doings. And what about businesses? How do they promote themselves and what they have to offer without a place to advertise? What if you need to hire a new employee? I guess you just start asking around? What if you are looking to buy a used washing machine? Where do you go when there are no classified ads to be found? Again, word of mouth is the best you can do, but in a community where there are thousands of people, like in Dangriga, that would be a daunting task."
So, what is in the future for The San Pedro Sun? "Right now we are really excited about our new My Beautiful Belize publication. Over the last several years we have been promoting tourism in this wonderful country under "The San Pedro Sun Visitor's Guide" and decided it was time to re-brand our product into a monthly, full color magazine sized publication.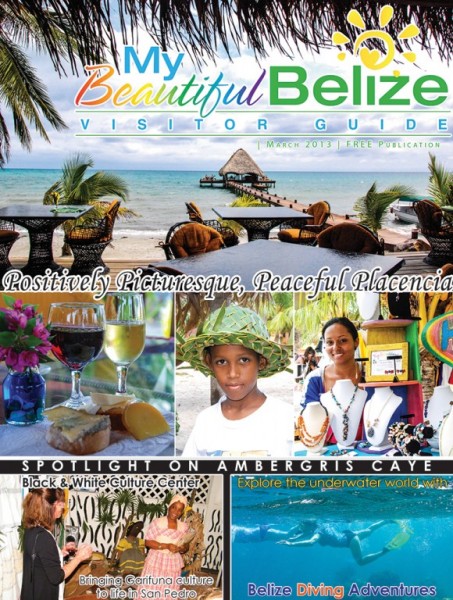 We have also launched a partner website mybeautifubelize.com to complement the publication and online is where we can add more content on a weekly bases with lots of gorgeous photos," explained Sniffin. "The community response has been tremendous and we are excited about the growth and development of our publication, of course we could not make this happen without the support of our advertisers and we really appreciate their confidence in this undertaking. The country has so much to offer and together we can promote Belize as the wonderful travel destination we all know it is."
In ending Sniffin added, "We want to thank our community, our advertisers and our friends for making us the successful media house we are today. The San Pedro Sun is a product of the dedicated efforts of our invaluable staff and we feel very fortunate to have such talented individuals (Tamara Sniffin, Mary Gonzalez, Jorge Aldana, Dennis Craft and our newest addition; Janelle Cowo) on our team. We look forward to a long and prosperous future and embrace all of those who have helped us along our way. Thank you all!"
Follow The San Pedro Sun News on Twitter, become a fan on Facebook. Stay updated via RSS