Lions celebrate world service day
Friday, October 15th, 2010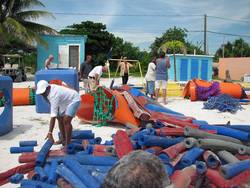 Worldwide, Lions Clubs celebrated World Service Day by conducting a variety of activities. The San Pedro Lions Club was no exception. October 8th is the official date set aside for World Service Day, when community work is done by club members in the various municipalities.
San Pedro Lion's Club president, Melanie Paz spoke with The San Pedro Sun a little about World Service Day. "Lion's world service day is celebrated every year on October 8th worldwide by all Lions Clubs. Since it fell on a Friday, that being a weekday, we find it very hard to get all the Club members to organize. As a result, the club has decided to plan a work-a-thon at the Mosquito Coast Park which is known locally as the Lion's Park, for Monday October 12th, which is a holiday."
Lion's President went on to explain a little about the services offered by the Lions Club; "I take this opportunity to shed a little light on the Lions and some of the services that we offer. The Lions Club is an International organization that helps those with vision problems, while also offering invaluable assistance to individuals with various medical issues. In San Pedro, the Lions' Club brings out doctors, dentists and many other medical practitioners to help people in the community and also assist the Belize Council for the Visually Impaired (BCVI) with practitioners to help the visually impaired as well as helps individuals with the acquisition of glasses and so forth."
On Monday October 11th, The San Pedro Sun found Lions members setting up a new playground for children at the Lion's Club in Mosquito Coast. Material for the playground was graciously donated by (Lion) Vernon Wilson of the Holy Cross School. At the site, local constructor Gaby Nuñez was hard at work with his team of workers, putting the playground together. Upon completion the playground will include two slides, swings, a monkey bar and other fun stuff for the kids to enjoy. As part of the playground project, the Lions plan on planting coconut palm trees and upgrade the facilities at the park.
Presently, there are four Lions Clubs in the country of Belize. The International Lions Organization was founded on 1917 by Chicago businessman Melvin Jones. Currently the Lions Organization is 1.3 members strong worldwide and has clubs in 205 countries.
Follow The San Pedro Sun News on Twitter, become a fan on Facebook. Stay updated via RSS