Smiles are brightened by the Belize Mission Project
Thursday, October 21st, 2010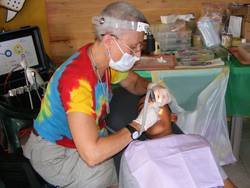 The Belize Mission Project is back in San Pedro for its 19th year of volunteer service here on the island. Here to offer their professional dental services are 43 volunteers (both return visitors and newcomers) that have joined the project from all across the United States. The group of volunteers will be stationed at the San Pedro Lions Den until Friday October 22nd and will be offering dental services from 8:00am – 5:00pm. As of Monday October 18th, the group has seen a record number of patients with various dental issues.
According to David Dorman, Lab Technician with the Belize Mission Project, the group works under the general mission to "Honor God by helping those less fortunate" through providing dental and medical care. This year, the group's main focus is restorative dentistry. Along with the group are hygienists that focus on cleaning. Among the other services being offered are extractions, replacing and fillings.
While San Pedro serves as the base of Belize Mission Project's operations, volunteers were also dispatched to various locations including Ladyville, Valley of Peace, Hattieville and other areas in the country, to give residents of those municipalities the opportunity to take advantage of this free dental clinic services.
A second group of volunteers with the Belize Mission Project is scheduled to arrive in the country within three weeks to continue the free dental services. The project, which had its start in 1993, was originally known as "The Fishin' Mission." Their visit to La Isla Bonita would focus on two things: dental/medical mission work and professional fishing. Dr. Frank Whipps, orthodontist practicing in Illinois, teamed up with colleagues who had the same idea: to concentrate strictly on dental and medical mission work. As a result and with help from Mr. Will Lala, a longtime resident of San Pedro Town, the "Belize Mission Project" was formed.
First timer to the project, Mary Parker, was excited at the opportunity to visit the Caribbean country and practice with a diverse group of professionals as well as patients. She was able to bring her daughter along; that aspect of this project made her very happy.
All expenses for the FREE dental clinic are incurred by the dentists themselves; transportation of equipment, all supplies used in the various services offered; accommodations as well as all travelling expenses. Throughout the years that they have visited the country, the Belize Mission Project has assisted, not only to brighten smiles, but has contributed their efforts to the San Pedro Poly Clinic II and has made food donations.
Follow The San Pedro Sun News on Twitter, become a fan on Facebook. Stay updated via RSS