Fifth Annual Lighted Boat Parade brings in the Holiday Cheer
Thursday, December 9th, 2010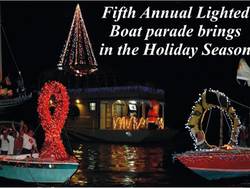 The fifth annual Holiday Lighted Boat Parade arrived with great Christmas cheer on La Isla Bonita. The dark seas were lit up by festive boats that took the annual route north from Boca del Rio and south to the Caribbean Villas area. Along the shoreline, hundreds of spectators lined up to watch the beautiful twinkling lights as the vessels sailed/drove at sea.
There were booths set up at the Central Park offering foods, snacks and drinks for the spectators, and even Santa was on hand taking pictures and helping the SAGA Humane Society by posing for pictures with kids of all ages. Of course, there was judging to be had, and this year's judges, Einer Gomez (Ramon's), Wil Alamilla (ABC Pre-School), Miss San Pedro – Natasha Stuart, Dianne Lawrence (Quicksilver) and Mayor Elsa Paz had the hard task of deciding the overall winner. There were several prizes to hand out, and all seven participants were honored.
The list of winners is as follows:*Most Artistic – Sea Symphony*Most Religious – Holy Cross Anglican School*Junior Division – Holy Cross Anglican School (only Junior Division participant)*Mayor's Trophy – San Pedro AIDS Commission*Best Overall – 1st Place – Blue Tang's Sirena Azul*2nd Place – San Pedro Lions Club*Honorable Mentions – The Rum Punch, Canadian Connection and Searious Adventures' "Red Hot" Catamaran (The SEArious Escape).Congratulations to all participants and winners for a job well done!! Join us again when we light up the seas once more in 2011.
Follow The San Pedro Sun News on Twitter, become a fan on Facebook. Stay updated via RSS