Coastal Xpress staff certified to Maritime Standards
Thursday, June 9th, 2011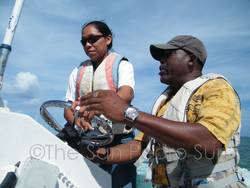 Citing "Boating Safety is no Accident", the staff members of San Pedro's Coastal Xpress – the ferry boat operator currently providing services to locals and visitors to north and south of the island – was involved in a one week intensive Maritime Certification Course entitled "Prudent Master Course".
Offered by Wafagua Nautical & Safety Institute (WNSI), the captains and crew of the Coastal Xpress Water Taxi service embarked on the five-day course. Major Gilvert Suazo, managing director of WNSI, informed The Sun that
"WNSI was incorporated in 2006 specifically for the teaching of Nautical Science both in skills and seamanship courses, with a view to enhance the capacity of those masters or boat captains who are registeredwith the Belize Port Authority. It also looks to qualify those who have yet to receive a master's license so that they have the theoretical and practical skills to be boat masters. We also look to train people who can be crew on the domestic registered vessels within Belize".
The main objective of the training was to provide comprehensive, theoretic and practical hands-on skills on the best proven defensive and safe operation methods. At the end of the training, the participants were expected to possess enhanced boating skills. The course taught and reviewed subjects such as; The Responsibility of the Master, (including responsibility to the passengers and the marine environment), Underway Emergency Procedures, Emergency Communications, Rules of the Nautical Road, etc. It was expected that upon completion of the course the Captains and Crew would be capable of making better decisions and operate their vessels with confidence, safety and environmentally responsibly.
Coastal Xpress prides itself in providing clients with the highest standard of safety as they enjoy the quality of service provided by staff and crew members. WNSI representatives travel to provide training. They may be contacted through telephone number: 670-8297, email [email protected] and on facebook as Wafagua Nautical.
Follow The San Pedro Sun News on Twitter, become a fan on Facebook. Stay updated via RSS