ACES breaks ground for new Crocodile Refuge on AC
Sunday, August 28th, 2011
On Friday morning, August 19th the American Crocodile Education Sanctuary (ACES) held a ribbon cutting ceremony for their new croc refuge located three miles north of the Boca Del Rio Bridge. Friends, supporters and donors were in attendance at the special event. In a short speech filled with emotion and gratitude, ACES director and biologist Cherie Chenot-Rose reflected on the last year of events that lead to this new sanctuary. In September 2010 the ACES facility in Punta Gorda was torched to the ground by arsonists, and rebuilding their lives, while maintaining their commitment to the conservation and protection of American Crocodiles has been challenging for Cherie and husband/ACES animal behaviorist Vince Rose. Thanks to the generosity of many, from financial to in-kind, the Roses have managed to regain a new lease on life while making impressive progress in crocodile research and conservation in Belize.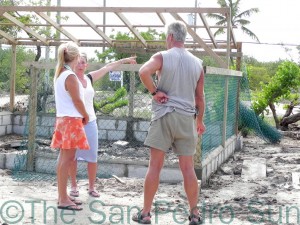 In a press release issued by ACES on August 1st, ACES stated, "This new refuge will not only create employment for local tour guides, but will be a family oriented educational eco-tourist attraction for the island. The environmentally friendly facility will enhance the public's safety by holding problematic crocodiles until they can be transported to more suitable habitats at the ACES located at the Caribbean Shrimp Farm, Ltd. in Ladyville; supply professional care for ill and injured crocodiles; reduce human-croc conflicts by educating the public about crocodiles and how to safely coexist with them; increase additional professional employment opportunities for locals and will stimulate the local economy by generating additional revenues. A small visitor's entrance fee will provide self-sustainability with proceeds utilized for crocodile rescues, care, conservation efforts and education here on the island."
With one small enclosure intended for injured croc "Jaws" close to completion, ACES continues to solicit funding to complete the project. Construction on both faculties is in progress and can only continue as monies become available. Funding from the Plunkett Family of the Doris Wilderness has been instrumental in these first steps. Their generous cash donation was equally divided between both facilities and ACES has been able to relocate two of the crocs from the PG site to Ladyville and begin construction on Ambergris Caye. Such support is critical to crocodile conservation in Belize, and in an interview with Mr. Plunkett, he explained to The San Pedro Sun why his family chose to become involved.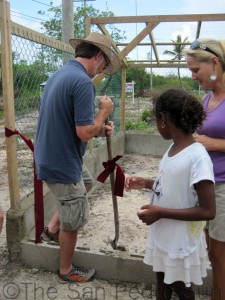 Plunkett and his wife Ellen first visited Belize with their sons about ten years ago. They immediately fell in love with the people, the culture, and the natural environment and bought land for their future home on Ambergris Caye on their first trip here. "Both my wife and I have a strong interest in herpetology (reptiles) and have been heavily involved in environmental protection efforts in the US for our entire adult lives. One of the things that attracted us so strongly to Belize was the public awareness in Belize of the importance of protecting the rare and important natural environment within Belize. We first heard about ACES through published articles on the work they were doing to relocate crocodiles on Ambergris Caye, while they still had their primary facilities in southern Belize. After the terrible disaster that destroyed ACES on the mainland, we became interested in trying to do what we could to help support the truly noble efforts of ACES to preserve the American Crocodile population in Belize through proper management of wild crocodiles in proximity to human populations. We contacted Cherie and offered financial support, and at the same time, our son, Dillon, and his friend, Rachel Ithen, offered to volunteer their help to ACES during their summer break from college. Crocodiles have been an integral part of our life for the last ten years on Ambergris Caye, since several of them live in the lagoon in our backyard. We have respectfully enjoyed their company since we moved into our home here." Plunkett went on to comment, "We think ACES deserves the strong support of the Belizean people, especially in San Pedro. Crocodiles are a part of Ambergris Caye. They were here long before any of us humans were and the local people have shared the island with them for hundreds of years. Crocodiles are a traditional part of San Pedro. As the island has developed, humans and crocodiles have been forced closer together. Poor management of this situation can lead to harm to both the crocodiles and the people of San Pedro. Crocodiles are magnificent, dynamic creatures that can coexist with people on this island if managed properly and allowed the space they need to live their lives. In doing so, a traditional and important part of Ambergris Caye can be preserved. There is no question that the people of ACES have the education, skills, training, and commitment to lead the way to proper management of wild crocodiles in Belize. It is our hope that ACES will be fully supported and embraced by San Pedro and the people of Belize."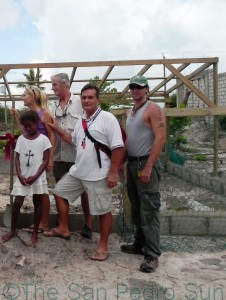 The new croc refuge also became a reality with the help of San Pedro businessman Mario Cervoni, who generously offered a piece of property for the site. Cervoni first meet Cherie and Vince when they were fund raising and was aware of their unfortunate incident in PG. He is currently building a grocery store on North Ambergris called Garden Foods that will stock everything that a normal grocery store stocks and everything that a restaurant and hotel may need in paper goods as well as fresh vegetables, fresh baked bread and pastries. Cervoni decided to appropriate a piece of the adjoining property to ACES, stating "The sanctuary is great so that people who come and shop will also have the opportunity to visit and learn about the crocs. I find these crocs fascinating, as well as terrifying, so what better way to get to know more about them than to have the sanctuary on the property? I will also develop five kitchens on the property that I will rent to locals to provide food for the tourists and workers in the area. I will be working with my good friend Troy Trapp on developing a wonderful meeting place for everybody in this north area and also have a sanctuary so that the tourist can actually see crocs and hatchlings, have a bite to eat and take some groceries home or have us provision their rooms. It will be a beautiful, park-like area."
ACES is a non-profit organization permitted by the Belize Forest Department. In-kind donations are most welcome and USA tax-deductible donations can be made through ACES 501(c)(3) partners at BEEDFund.com. For more information about ACES please visit their website at www.americancrocodilesanctuary.org
Photo Gallery
Follow The San Pedro Sun News on Twitter, become a fan on Facebook. Stay updated via RSS