International Friends of Belize is Accepting Grant Applications
Friday, September 2nd, 2011
INTERNATIONAL FRIENDS OF BELIZE IS ACCEPTING APPLICATIONS


FOR PROJECTS FOCUSED ON EDUCATION, ENVIRONMENT, OR HEALTH (HIV/AIDS)
Press Release – International Friends of Belize – September 1, 2011 – Looking for funds to support your nonprofit community organization? Apply for an International Friends of Belize grant worth up to $1,000 USD. Your grant must benefit your Belizean community in the area of education, environment, or health (HIV/AIDS). The funds cannot be used for lobbying, salary, subcontractor salary, or any other direct benefits to individuals.
International Friends of Belize has been supporting community-based projects in Belize since 2006. Previous winners of International Friends of Belize projects include the following:
• UNIBAM – HIV/Reproductive Health Education Program (3 Districts)
• Plenty Belize: Seed Bank Project (Toledo)
• San Juan Bosco RC School: Reading is Fun Program (Stann Creek)
• Sacred Heart Environmental Club: River Clean-Up Project (Cayo)
• San Jose Succotz: Completion of library and health center (Cayo)
• University of Belize: Recycling Art and Education Program (Belmopan)
• San Marcos Community Center: Addition of running water facilities (Toledo)
• Caye Caulker Youth Environmental Club: Marine Mural Project (Caye Caulker)
• Hummingbird Primary School: Chess Club (Belize City)
• Our Lady of Guadalupe School: Music Program (Belmopan)
• Arenal Village Council: Riverbed restoration (Cayo)
• Sarteneja Fishermen's Cooperative: Environmental education for children of fishermen (Corozal)
If you'd like to apply for a community grant, you can apply on-line at www.friendsofelize.org. You can also email [email protected] for more information and a grant application form.
The deadline for submitting your proposal is September 30, 2011.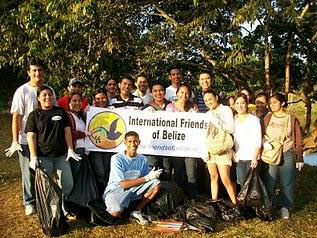 International Friends of Belize is committed to improving the education, health, and environment of Belizean communities through educational scholarships and small project grants.
International Friends of Belize does not discriminate against any employee, volunteer or grant applicant because of race, creed, color, religion, gender, sexual orientation, gender identity/expression, national origin, disability, age, or covered veteran status. It is also International Friends of Belize's policy to comply with all applicable national and local laws pertaining to nondiscrimination and equal opportunity.
Follow The San Pedro Sun News on Twitter, become a fan on Facebook. Stay updated via RSS