SP churches take gospel to the street in 'Bible Parade'
Wednesday, November 23rd, 2011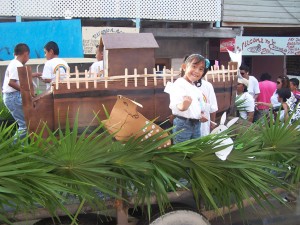 In a historic event, over 1,000 Christians from various denominations took the Bible to the streets in the first ever "Bible Parade" which lead the devout through the principal streets of San Pedro. The parade started at the Boca del Rio Park and ended at the Saca Chispas Field with a rally where church leaders made special calls and prayers for the residents of Ambergris Caye.
The parade was as a result of several months of planning where the leaders met to discuss the issues facing our beautiful and greatly loved town. During the discussions the leaders thought of an event that would best express God's love to the residents of San Pedro as a message to the community. That is when the idea of a Bible Parade was presented by Pastor Alex Tzib of Emmanuel Pentecostal Church and embraced by the other leaders and pastors.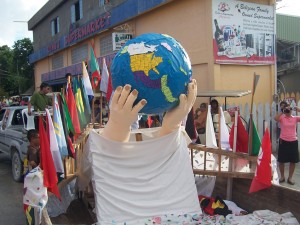 San Pedro's first Bible Parade saw pastors, church leaders and believers from various denominations gathered together at the Boca Del Rio Park at 3PM on Sunday November 18th. Churches and Christian organizations included in the event were Lighthouse Christian Radio, Shalom Church, Emmanuel Pentecostal Church, Living Word Church, Assemblies of God Church, Reform Evangelical Church, Holiness Church, Dios es Amor Ministry, Faith Bible Church, San Pedro Community Church and the San Pedro RC marching band.
Armed with the Holy Bible and energized with their beliefs the participants moved along Pescador Drive and ended at the Old Football Field chanting, singing and with several well decorated and colorful floats all surrounding the Bible with Scripture verses on placates. Live gospel bands and live music was also provided by Lighthouse Christian radio on FM 101.3 blasting through the principal streets and electrifying the town.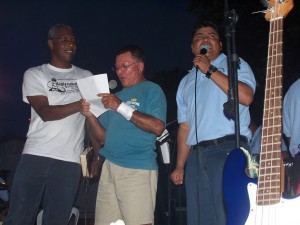 At the end of the parade, the large group gathered for a time of praise and worship with several presentations from various churches in the form of music, dramas and dance performances. The various pastors and leaders also took the opportunity to offer prayers for all the residents of the island.
Area Representative and Minister of Tourism and Area Representative, Honorable Manuel Heredia also had the opportunity to address the congregation. In his address Heredia explained that the churches are the root of Christianity in our town and in the Nation and it plays a vital part in the education of the children and the growth of the community of San Pedro Town. Lighthouse Christian Radio Ministry and all of the participating churches and pastors would like to thank all those who participated and contributed to the historical event and for making it a reality.
Photo Gallery
Follow The San Pedro Sun News on Twitter, become a fan on Facebook. Stay updated via RSS