Documenting US Student Volunteers' work in Belize
Saturday, January 7th, 2012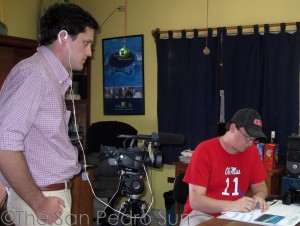 Since 2008, Kim Shakelford has been bringing students from the University of Mississippi (also refer to as Ole Miss) to conduct volunteer work in various parts of Belize. The various groups' work progress throughout the past four years will be documented by a group of journalism students from Ole Miss.
According to Patricia Thompson, who is the Director of Student Media and an assistant professor in journalism at the University of Mississippi, the Study Abroad Office has asked them to document the progress of the volunteer program and produce a magazine. Besides gathering material to produce the magazine, Thompson explained that they are also doing different news articles for the student run television station broadcasted on the cable stations, as well as their daily newspaper and website as part of their course entitled "Multi-media Reporting in Belize."
"Most of the [over 20,000] people on our campuses don't even know that there are Ole Miss students that have been coming to San Pedro helping to build the road in San Mateo and volunteering in other parts of Belize. Our main goal is to document what our students have been doing in Belize since 2008. We also want to educate our Mississippi community about Belize. We want to educate them about the history, the culture, the tourism and other industries, so we are looking in different areas," said Thompson
In total, five journalism students along with two journalism professors will be working together to document the works carried out in San Pedro Town, Placencia Village in the Stann Creek District and Punta Gorda Town. The volunteer work conducted by the students during their visits in Belize is a part of the "Study Abroad Program" incorporated into their courses.
Students participate in Fun Winter Camp
Over 75 local children were involved in the "Fun Winter Camp" held by a group of student volunteers from Ole Miss. The camp is one of two projects that students from the University of Mississippi are engaged in while on the island. The 29 US students are a part of the group that is visiting the island to carry out volunteer work with Kim Shakelford, a Social Work lecturer at UM.
In speaking to The San Pedro Sun, Shakelford explained that before the camp began they set up a learning center which encompassed a science lab area, reading area and a craft area. During the camp, "the students were engaged in minor science experiments, put into reading groups, taught how to knit, played games, sang, drew, learned dances and were also tested for fitness," explained Shakelford.
The camp was held at the San Pedro Lions Den. The next project for the US volunteers is with the San Mateo Street Empowerment Project. The project is being held on Saturday, January 7th and Sunday, January 8th. Volunteers are welcome.
Photo Gallery
Follow The San Pedro Sun News on Twitter, become a fan on Facebook. Stay updated via RSS