Red Cross donation boxes distributed across the island
Tuesday, March 20th, 2012
The San Pedro chapter of the Belize Red Cross is in full swing, with their first on-going fundraiser commencing on Monday, March 19th. Donation boxes were dispatched to five key collection locations here on the island. Funds collected will serve to assist the local chapter of the Belize Red Cross as well as to assist in its overall goal.
The presentation of the donation boxes was launched around 1PM with the first two being placed at the Tropic Air Boarding station, which is considered one of the main gateways to Ambergris Caye. The presentations were done by Belize Red Cross representative in San Pedro, Laurie Norton. John E. Grief III, President of Tropic Air, was on hand to receive the donation boxes, and spoke of Tropic's reason for teaming with the Belize Red Cross. "There is never any controversy with the Red Cross. Every time you hear any kind of emergencies in any parts of the world, the Red Cross is always there, so we decided we would support them." Tropic air has pledged to place as many boxes as are needed by the Red Cross at their various branches and encourages other businesses to do the same. "We're gonna put as many boxes as they need. We could put them wherever they want for as long as they want. I absolutely would encourage all businesses to get involved. I know that the Bowen group of companies are involved heavily and that will be a great push. For the reasons I mentioned already, I think it's a very worthy cause and the monies donated actually gets to the projects intended for, instead of becoming tied up in some bureaucracy somewhere. For these reasons, we would encourage other businesses to help out."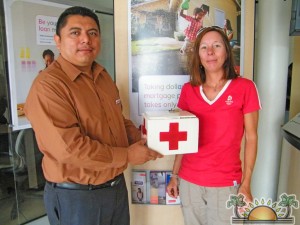 Following the presentation of the boxes at Tropic Air, Norton headed to Scotiabank where she presented one donation box to Branch Manager, Luis Gutierrez. Gutierrez stated, "It is part of our social responsibility to be open to all community organizations that benefit the public and certainly we feel that the Red Cross is one of such organizations. Their efforts are noticeable especially in the area where we reside. In times of need, they have been here. Further to this, I think the Red Cross offers very educational programs as well as promotes awareness."
According to Norton of San Pedro's Belize Red Cross office, "The boxes will remain at the locations indefinitely and will provide a continuous source of income to the Belize Red Cross. We urge the community to step up and support a good cause. The Red Cross does a lot of good work country wide, and we are very excited to have them in San Pedro and being able to start some of the many programs here."
Other core programs offered by the Belize Red Cross, that run year round include First Aid and community First Aid trainings, HIV & AIDS Peer education, Psychosocial Support, feeding programs, social assistance to fire victims and the disadvantaged, to name a few.
Donation boxes were also placed at; Legend's Burger House, Changes in Latitudes' Bed and Breakfast and La Isla grocery store. For more information on how you can donate or become a member of the San Pedro branch of the Belize Red Cross, contact Laurie Norton at 600-0837.
Follow The San Pedro Sun News on Twitter, become a fan on Facebook. Stay updated via RSS