Iron Cause for Iron Kids: BTIA president Jim Scott takes on Iron Man Cozumel
Wednesday, May 30th, 2012
On November 25th, 2012, BTIA president and faithful member of the Rotary Club of Belize City, Jim Scott turns 50 years old. Already a momentous occasion, but one that will be even more celebrated as on that very same day Jim will also be taking part in the Iron Man Competition in Cozumel, Mexico. Jim is taking on the challenge as part of his Iron Cause for Iron Kids campaign that aims to raise $50,000 in funds for the renovation and expansion of the Dorothy Menzies Child Care Centre. All funds raised by the campaign will be matched by the Rotary Club of Belize City lending to the motto "2 + 2 = 8. If you Donate" and could see the monies total up to $100,000.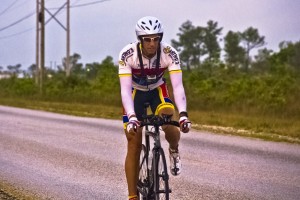 Jim has dedicated himself to the challenge and since his last birthday in 2011 has given up everything he can to keep his focus on achieving his goal for the kids at the Child Care Centre. On the campaign website Jim wrote "It's hard. Don't get me wrong. I usually get up when it's pitch black out to go ride my bike. I run and or swim almost every day after work. I drank my last Guinness on my birthday last year. Everything I do right now is focused on that Iron Man. But as hard as it is for me to give up these things to achieve my goal – can you imagine how hard it is for the children at DMCCC? I think when you're in a position that you can give time, passion and money to those kids who really need the support, you have to do it." You can even track Jim during his working out via his training log on the Iron Cause for Iron Kids website.
We here at The San Pedro Sun believe that this is an exceptional and worthy cause and an impressive challenge for anyone to take on, let alone one who is turning half a century old! Go Jim!!!
If you would like to help Jim raise funds for the Kids and the Child Care Centre you can make a donation by depositing in Scotiabank, account # 9132885 and make deposits out to the Rotary Club of Belize (iron cause) or by contacting Jim directly to arrange for a donation. Follow online and pledge your support by visiting the campaigns Facebook Page and sharing it with your friends, family and colleagues.
Follow The San Pedro Sun News on Twitter, become a fan on Facebook. Stay updated via RSS