Two San Pedro teenagers missing for 5 days in Belize City
Thursday, June 7th, 2012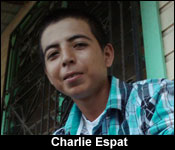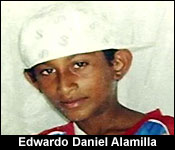 Two teenagers from Ambergris Caye have been missing for the past five days, and the family fears the worst. They are seventeen year old Edwardo Daniel Alamilla and his cousin eighteen year old Charlie Jamille Espat both fishermen of a San Pedrito Area address in San Pedro Town. They were last seen on Saturday June 5th around the East Collet Canal Area of Belize City, by Charlie's younger brother 15 year old Kareem Espat.
According to the police, Kareem and Charlie Espat and Edwardo Alamilla were travelling in a dark green Suzuki four-door pickup truck with Texas license plates from Benque Viejo Town to Belize City. They were scheduled to meet with some friends who live on George Street in Belize City. Kareem, the youngest of them all, decided to jump out of the vehicle near the Belize City Bus Terminal (formerly Novelo's Bus Terminal) and instead took the boat to San Pedro Town.  Kareem told police that it was the last time he saw his brother and cousin.
Edwardo Alamilla is described as being Hispanic with black hair, dark brown eyes and tan complexion. He was wearing a black cap, red and black long sleeve shirt and blue jeans. Charlie is described as being Hispanic with black hair and dark brown eyes, stands at about five feet two inches in height and is of tan complexion. Tattooed on his left hand are the words "Love Pricilla", and on his left wrist "Charlie." He was wearing a light blue shirt and ¾ Dickie's pants with black sneakers. He was also wearing a gold necklace.
The father of Charlie, Rolando Espat Sr., told The San Pedro Sun that he fears for the worst because the family has been threatened in the recent past by a George Street affiliate. "I believe that my son and his cousins have been killed and buried," said Espat Sr. The family says that the last time they heard from both Charlie and Edwardo was on Saturday at around 3PM via a text message. So far the two have not been found, and neither has the vehicle they were last seen in.
Photos by: Ch 7 News
Follow The San Pedro Sun News on Twitter, become a fan on Facebook. Stay updated via RSS