High Level security meeting conducted with UNODC and Belize officials
Saturday, July 21st, 2012
Belize, through the Ministry of National Security and the National Security Council, conducted a four-day training ending with a high level meeting with representatives of the United Nations Office on Drugs and Crime (UNODC). Joining the meeting were various ambassadors representing their country in Belize. The high level meeting, which took place in Belmopan City on Friday July 13th saw the group discussing serious areas such as intelligence gathering, strategic analysis and organized crime.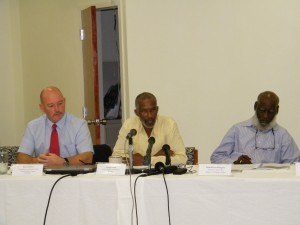 Speaking at the closure of the meeting, Chief Executive Officer in the Ministry of National Security Retired Major George Lovell explained that the meeting comes at a time when there is a spike in crime in the country, one as never before seen in Belize's history. But according to Lovell, with the assistance from the UNODC, it is the hope of the Government of Belize to look at formulas that will help to prevent, investigate and solve crime in Belize. "There have been 129 homicides [in 2012 so far] which the country has never seen in its history. In my view it is reason for us to be alarmed and quite appropriately, we were alarmed. With the level of criminal activities that we witness in Belize City, the people that were involved in those types of activities are all reasons for us to have concern as a people. It is a reason for us to look at where we were 20 years ago, and where we were back in 2010 and clearly you would agree, that we as a people would believe that we were near a crisis situation. We couldn't continue along those lines. We have since then looked at some of the areas that we needed to strengthen. Intelligence certainly was one of those areas," said Lovell.
But even when intelligence fails in preventing a crime, Lovell said that the next thing that must be working to ensure is that information gathering will assist in a proper investigation that will guarantee appropriate justice.  And for that reason Lovell told the media that the discussion was frank and open and they looked at the entire aspect of how law enforcement agencies conduct intelligence architecture. In doing so Lovell explained that they hope to come up with a model that is in line with UNODC so as to enhance what currently exists in Belize. "We have identified that there are weaknesses that exists in our structure and getting a model generally does not necessarily fit the weaknesses we have, even though it's good. What is more needed and we have agreed that we need to work towards – is to ensure that we have the right mix of people within our organizations. We need to have people who are competent; we need to have pragmatic people within our organization."
And even if there is a right model, Lovell explained that there needs to be competent people to execute them. "It doesn't matter what model you have – what structure there is in place – if you don't have the right people with the right competency to do these things and you don't have pragmatic people in there you are not going to get the results that we so all expect."
In speaking to the media Lovell said that all partners present at the high level meeting have committed to the plan and a follow-up meeting will be held on the 23rd of August. It is the hope that during the follow-up meeting that some work is done in coming up with a strategic plan with government agencies and other partners. In addition they will also take the opportunity to look at targeted assistance that is needed to address Belize's national security concerns.
Follow The San Pedro Sun News on Twitter, become a fan on Facebook. Stay updated via RSS