SPTC meets with San Mateo residents about future infrastructure plans
Thursday, October 11th, 2012
In a meeting with San Mateo residents on Saturday October 6th, Mayor of San Pedro Town Council (SPTC), Mayor Daniel Guerrero along with representatives from the Public Utilities Commission discussed the plans for proper infrastructure within the San Mateo subdivision.

In an interview with The San Pedro Sun, Mayor Guerrero assured that San Mateo will have proper infrastructure prior to the ending of his administration's term in office. "The council has a very aggressive campaign on roads and streets and we have not abandoned San Mateo. We have San Mateo at heart, just like all the other sub-divisions. And we are committed to bringing its residents proper streets – and infrastructure. The main thing for the council right now is to open the streets with hardcore and that, we are doing. Once we've finished the streets, Belize Electricity Limited (BEL) will come in and put electricity and once we have the poles, it's easy to put cable and telephone in. The next one is the water – water isn't that fast but we are looking into that. We committed to having water and electricity installed prior to the ending of our term in office. However, sewer is another issue. While we would certainly love to have the sewer system extended to San Mateo and all other parts of the island – we must be realistic. We are working with our resources to get all that we can for San Mateo."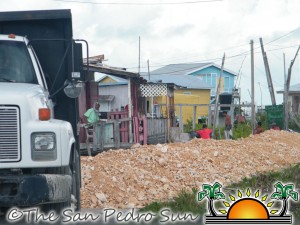 Further to this, the Mayor encouraged residents to start filling their properties with proper land fill as opposed to what have long since been the norm; with items such as old refrigerators, old water heaters or discarded washing machines. The Mayor also informed The San Pedro Sun that once the streets are completed, the council will also be collecting garbage from residents of San Mateo.
A hindrance for the street completion however, is the low lying power lines across the path where the streets are to be set. The Mayor said that during the meeting, residents were asked to remedy this situation, and they were very cooperative.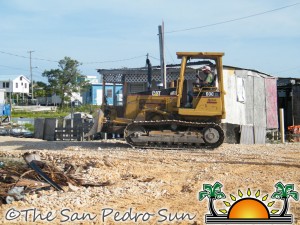 While residents are happy to hear that they will be getting infrastructure that they had been promised for over some 14 years, some are not too convinced. One resident expressed to The San Pedro Sun; "I went in there with the hope of hearing WHEN BEL and water was going to come in and start work on getting us this infrastructure. But once again, we were met with more promises. We need to know "WHEN WILL IT HAPPEN". We have been waiting for so long and now they're saying that we have to wait some more. This is not what we expected to hear."
The SPTC was elected into office in March of 2012 and their term lasts three years. This should see the next election being held in March of 2015. According to the ambitious plans of the current SPTC, residents of San Mateo should be enjoying proper streets, potable water, electricity, telephone and cable before the end of this first term.
Follow The San Pedro Sun News on Twitter, become a fan on Facebook. Stay updated via RSS