Captured croc tortured to death in San Pedro
Tuesday, May 7th, 2013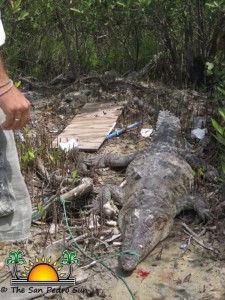 For the last several weeks the American Crocodile Education Sanctuary ACES team has been concentrating on capturing and relocating problematic crocodiles in the San Pedrito/Airstrip area of San Pedro Town on Ambergris Caye.  Permitted by the Belize Forestry Department to address crocodile problems in Belize, ACES had been asked to remove crocodiles from the area due to safety concerns in regards to their proximity to the tarmac. Neighbors in the area have also asked ACES to remove the crocs as some have lost their dogs to the opportunistic predators. With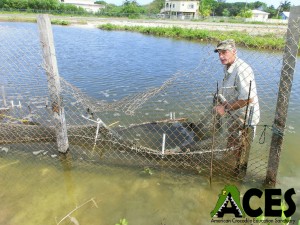 a netted trap setup in a canal alongside the airstrip, the team routinely checks to see if a croc has been captured. When they are successful, scientific data is collected on the animal and then it is relocated far away from people or detained in a permanent holding facility. Over the weekend, local children pulled one of the captured crocodiles from the ACES trap and brutally tortured it to death.
ACES received a call mid-day Saturday, May 4th that four boys of the approximate age of 12 were seen dragging a tied up crocodile down the dirt road that runs along the western side of the airstrip in the San Pedrito area. According to an eye witness the juveniles had also jammed one of the PVC tubes used in constructing the net down the throat of the croc. Upon arriving at the scene a bloody drag trail lead the ACES team to a bushy area some 200 yards from the destroyed net site to find the animal lying amongst other animal bones, tied up, badly beaten and dying.  Measures were quickly taken to place the brutalized and dehydrated animal into nearby water but the efforts to save it were unsuccessful. ACES biologist Cherie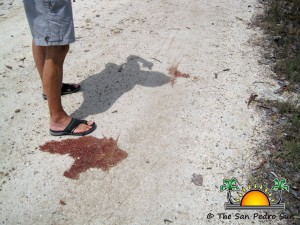 Chenot-Rose stated, "This is so very sad…we let the croc peacefully drown and buried its body. We hope to dig it up in a few months and reconstruct the skeleton for educational purposes to give its senseless death some sort of meaning."
American Crocodiles are a world-wide protected species and it is a criminal offence to kill one. Reports were made to the San Pedro police department as well as the Belize Forest Department. The Forest Department has stated that they will press charges against the offenders and the public is asked to assist in apprehending those who are responsible for the brutal death of the crocodile. "What is even more disturbing is that these children are taking pleasure in killing defenseless animals. It appears that where we found the croc there were other animal bones as well. Is this where these kids take animals to torture them to death," asked a tearful Chenot-Rose. According to Rose about a month ago another smaller croc was found killed and left in the same location.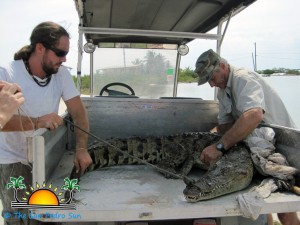 ACES animal behaviorist and croc wrangler Vince Rose likened the incident to the recent killing of a Howler Monkey by school children at the Belize High School of Agriculture in Orange Walk. In the March 21st Vol. 23 Issue #12 of The San Pedro Sun it was reported that both the teacher and three students from the school were charged with Unlawful Hunting in the death of the Howler Monkey in charges brought forward by the Forest Department. Hunting, according to the laws regarding wildlife, is defined as the act of killing, molesting, taking or attempting to kill, take and/or molest any species of wildlife by any method.
According to Chenot-Rose, the croc was originally captured on December 6, 2011 from the DFC area when wildlife photographer Brandon Sideleau accompanied them on a photo shoot.  At that time the croc was micro-chipped and named Sneaky. "Sneaky was a nuisance croc was living under a home and it was caught in a net and then re-released at the Wasa Lagoon where ACES had recently removed several large crocodiles. At the time the croc was only 7 feet long and was released back into the lagoon in order to keep the ecosystem there healthy.  It evidently moved out of Wasa and decided to make San Pedrito its home.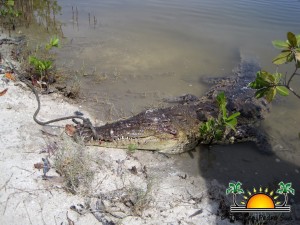 Since it had only been caught once before we would have relocated it up north away from people. The male croc had grown a foot in length and appeared healthy. Chances are it would have reproduced this year." Rose went on to say, "Not only are American Crocodiles a globally protected species, they are vital to a healthy ecosystem and are also a draw for tourism not only here on Ambergris Caye but countrywide. People want to see these magnificent animals in their wild habitat, and they are just one more attraction Belize has to offer."
Photo Gallery
Follow The San Pedro Sun News on Twitter, become a fan on Facebook. Stay updated via RSS