WUHS conducts Blood Drive in San Pedro Town
Saturday, June 1st, 2013
On Saturday May 25ththe Washington University of Health and ScienceMedical School (WUHS) sponsored a blood drive which was held in collaboration with the Belize Blood Bank; also present was Dr. Giovanni Solorzano. The drive took place at the WUHS campus on Seagrape Drive from 8AM-3PM. No appointments were needed and all were welcomed to come out and support the cause.
Students of WUHS did a phenomenal job in organizing the event and making all that came out to donate feel quite comfortable through the entire process. Over sixty people came out to support the drive. At the end of the day WUHS was able to donate over 31 units of blood to the Belize Blood Bank. One of the largest amounts collected through drives on the island in quite a while. Supporters were greeted with warm smiles and the most enthusiastic spirit by both the staff and students of WUHS.The University also provided refreshments and light snacks for all those who were present.
The blood drive was just one of the many great community projects WUHS has in store for San Pedro. WUHS looks forward to continuing to do their part in contributing to the needs of San Pedro Town and would like to thank the community for their support in this effort.
A list of sponsors include: Elvis Kitchen, My Secret Deli, Brianna's, Caramba!, Estel's, Pedro's Inn, Sail Away Café, Mr. Deli, Luna Loca, Captain Shark's, Melts, Moncho's Rentals, The Baker, Reef Radio (92.3 FM), Belize Blood Bank, Tropic Air, and Maya Island Air.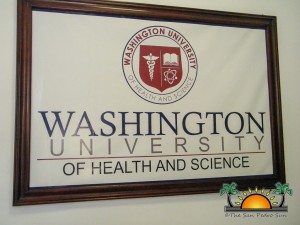 The San Pedro Sun would like to congratulate The Washington University of Health and Science Medical School on a job well done. Keep up the good work guys!
Follow The San Pedro Sun News on Twitter, become a fan on Facebook. Stay updated via RSS