Xcalak residents celebrate 113th anniversary
Saturday, June 8th, 2013
Ambergris Caye and the community of Xcalak, Mexico have many things in common and the connectivity is rooted deep within family bonds. So much so that when the 1955 Hurricane Janet practically destroyed the community, a few of the survivors (less than 100) migrated to the then fishing community of San Pedro to build and start a new life. Now, those are memories that live with the residents of both Ambergris Caye and Xcalak, and annually both communities find time to come together to celebrate their roots. On the weekend of June 1st and 2nd, the Xcalak community celebrated its 113th anniversary. Residents of San Pedro Town travelled in large numbers to participate in the two-day celebration.
The weekend celebration started with a short ceremony commemorating "Dia de La Marina" (Marine's Day) on June 1st. The event included speeches by different Mexican military and port officials, followed by an inspection of the guard of the Guard of Honor. Part of the day's activities included a football marathon which had three teams from Mexico and Belize. The football marathon was declared open by the Head of the Xcalak Port and organizer of the events, Laura Susana Rivero.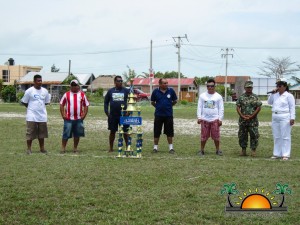 Speaking to The San Pedro Sun Rivero said that it is always an honor to have Belizeans participate in their event, especially the community of San Pedro Town who share a lot in common with Xcalak residents. "For us it is a special celebration and each year the communities come together to celebrate our origin. It is a time when our families from all over the region come together to be a part of our celebrations. We invite the people of San Pedro to be a part of our celebration as well," said Rivero. "San Pedro Town, as you know, is very special to the people of Xcalak because of the families that migrated when this community was tragically destroyed by Hurricane Janet. Since then, we have maintained that togetherness, we struggle together but we always move together in times of needs. We are happy that we continue to foster the ties that bond us as one people. Despite being from two separate countries, we are one people."
Speaking at the event was Councilor Severo Guerrero Jr. of the San Pedro Town Council. "We are happy that our families continue to educate our children on what is it that unites Xcalak with San Pedro Town. I am particularly happy that we built on that history that unites us as a people. On behalf of the SPTC and the people of Ambergris Caye, we want to emphasize our support to the people of Xcalak, a community that is dear to our hearts," said Guerrero.
The community of Copper Bank and Sarteneja villages also joined in the football marathon. While the two San Pedro Town football teams were unsuccessful, they all had a good time. During the two days of celebration, the residents of both communities enjoyed much entertainment including the music of Belize's own Gilharry Seven, who graced the stage with Caribbean and Belizean music. Congratulations to Xcalak on their 113th anniversary!
Follow The San Pedro Sun News on Twitter, become a fan on Facebook. Stay updated via RSS