BDF Youth Cadet Corps Annual Summer Camp Concludes
Tuesday, August 13th, 2013
Press Release- Ministry of National Security, August 12th-
The BDF Youth Cadet Corps Annual Summer Camp for 2013 concluded over the past weekend in Toledo. This year's camp was held at the Julian Cho Technical High School located in the village of Big Falls, and was attended by close to 300 cadets from around the country.
The camp ran from Saturday August 3 to Saturday August 10 and covered Drills, Band Practice, Environmental Study, Physical Training, Administration in the Field, First Aid, Knots and Hitches, and Personal Hygiene. There were lecturers from the Police Department, National Drug-Abuse Control Council, HIV/AIDS Commission, Fire Service, Audubon Society and Solid Waste Management.
Last Thursday, Minister of National Security made a special visit to the venue of the summer camp, accompanied by Commander of the Belize Defense Force, Brigadier General David Jones; Commander of the Volunteer Battalion, Lieutenant Colonel Felix Enriquez under whose charge the BDF Cadet Corps is administrated; and BDF Battalion Commander, Lieutenant Colonel Asariel Loria.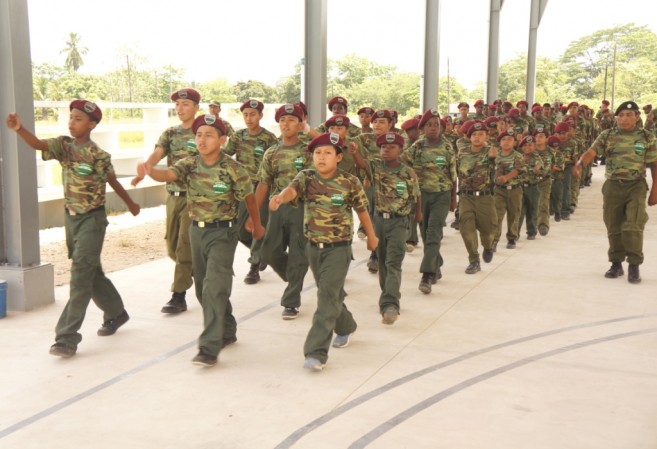 On the grounds of the summer camp, the Minister inspected a guard of honor consisting of members of BDF Youth Cadet Corps. He and the commanders were briefed by Assistant Coordinator of the BDF Youth Cadet Corps, Lieutenant Sarita Westby and Operations Commander Major Edmund Ogaldez. They then had the opportunity to witness a number of drill demonstrations by the young cadets displaying the special skills they had acquired. The Minister and the commanders had lunch with representative members of the BDF Youth Cadet Corps.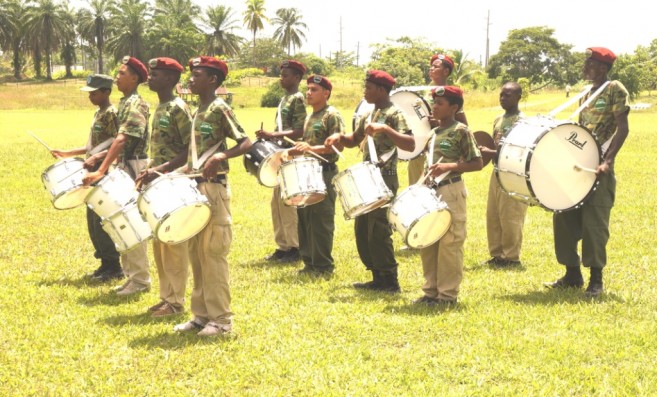 The Minister ended the visit with his remarks to the youths and their supervising officers from the Belize Defence Force and its Volunteer Battalion. He congratulated the youths for their involvement in such a positive endeavor and encouraged them to continue being a good example for other young people to engage in such positive activities towards good character development and acquiring of valuable lifetime skills. He also commended and thanked the high command and officers of the Belize Defense Force and its Volunteer Battalion.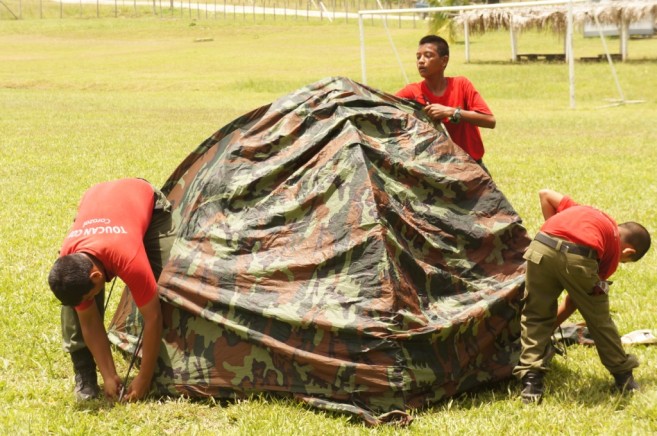 The BDF Youth Cadet Corps, which was started in 2008, is now 650 members strong, 120 additional members having been added over the past year as part of a commitment by Minister of National Security, Hon. John Saldivar which he announced when he visited the BDF Youth Cadet Corps Summer Camp last year in Cayo District conducted at Eden High School in Santa Elena, that announcement being that he would secure additional resources to increase the size of the BDF Youth Cadet Corps, doubling its members over three years from the 500 at which it stood at that time, to a total strength of 1,000. The addition of 120 new members over the past years was the first step towards fulfilling that commitment, with additional increases due 2014 and 2015 to bring the total membership to the 1,000 that was promised.
Photo Gallery
Follow The San Pedro Sun News on Twitter, become a fan on Facebook. Stay updated via RSS