Meet your National AIDS Commission Island Committee members
Friday, September 27th, 2013
The National AIDS Commission Island Committee was established to carry out the local aspect of the National Response to HIV following the guidelines of the National AIDS Commission. The entity is commissioned by the Government of Belize to carry out this function.
The committee is made up of a multi-sectoral body. The San Pedro Sun takes this opportunity to present the members of the executive body to you – the community that they serve.
This week, we take the opportunity to Nurse Robertha Herrera. Robertha serves as treasurer of the NAC Island Committee as well as Rural Health Nurse, phlebotomist and counselor. Being at the Dr. Otto Rodriguez PolyClinic II for just over two years, Robertha is no stranger to residents of San Pedro.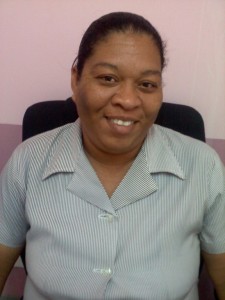 Robertha tells us a bit more about herself:
My interest in HIV stems from a sincere interest in assisting in the one response. Adding to this is my one on one experience with various patients at different level. Presently, the Island Committee has embarked on a mission to get "Everyone at risk" tested. And this of course refers to everyone having sexual intercourse. And how do we plan on accomplishing such an ambitious goal? Well, through Education. Our team is well trained and by us educating the general public – we believe that more and more individuals will be interested in learning their status. Further to this – the Island Committee is willing to even come out to your Establishment or work site where we would do the HIV Education, Counseling and Testing.
With the Committee, I serve as the treasurer but what I enjoy most is my responsibility when we go on our mobile testing. I'm one of the two individuals that would extract your blood and give you your results.
I'd like to take this opportunity to invite you, the general public of San Pedro and Caye Caulker to visit our Facebook page www.facebook.com/gettingto0 or send us an email [email protected]. We're always looking for interested and willing members with a passion for "Getting to Zero." I'd also like to take this personal opportunity to thank The San Pedro Sun for generously offering to publish this section in your newspaper.
Follow The San Pedro Sun News on Twitter, become a fan on Facebook. Stay updated via RSS