Problematic Beachside Croc Captured by ACES
Thursday, October 17th, 2013
Water enthusiasts on the southern end of Ambergris Caye can swim a little safer now that a rogue crocodile has been captured by the American Crocodile Education Sanctuary (ACES) team. It is believed that the croc is the culprit in a encounter that harmed an Ex-Pat spear-fisherman last week as reported by The San Pedro Sun in Vol. 23 Issue 39.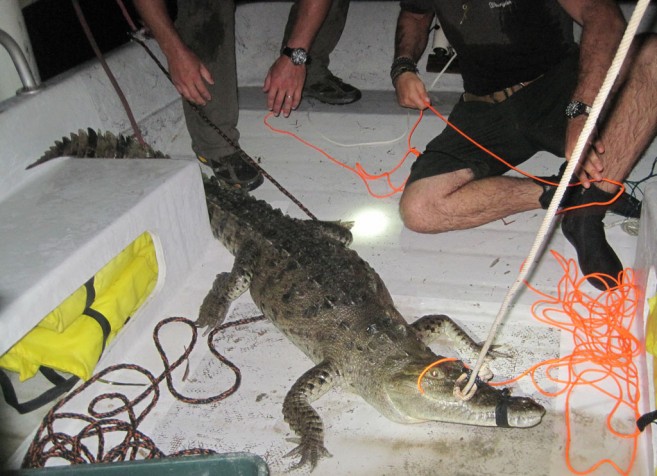 Over the last several weeks ACES has received many calls from residents of the southern beachside area of the caye who have sighted a crocodile swimming near the shore and under various docks. Based on information gathered, ACES was lead to believe it was the same croc that was involved in the recent altercation. On the evening of October 10th ACES Animal Behaviorist and Wrangler Vince Rose and ACES Apprentice Chris Summers set out to capture the troublesome croc once and for all. Aboard their boat The Swamp Thing, the team, along with the assistance of US Marines Andy and Roy and Navy Medic Axel , was able to lasso the croc in what resembled a Caribbean crocodile rodeo. The scrappy reptile eluded the team for quite some time and put up a good fight when it was finally captured.
Measuring just a little under seven feet in length, Rose was able to determine that the male croc was not micro-chipped and had not been captured before.
Typically crocs habituate within the mangrove swamps of the island's western lagoon, but Rose theorizes that this croc was sticking around the beachside area because he had found a good food supply. "Chances are people who are coming in from fishing are cleaning the fish at their docks and they like to attract and watch marine life like rays that come in for the food. This also means a food source for the croc. As long as he's got a constant source and no other crocs to compete with he's going to stick around," explained Rose. The Animal Behaviorist went on to say, "We are pretty certain this is the croc that bit the spear-fisherman. The size is right based on sightings and the bite marks are consistent for an animal this size. Since we captured the croc there have been no reports of a croc in the area, so we are confident this is our culprit."
The American crocodile is currently contained at the ACES holding facility here on the island and will remain there until it's future is determined by the Belize Forestry Department (BFD). ACES is a non-profit organization permitted by the BFDto conduct research and assist in the management of American crocodiles in Belize. For more information about ACES please visit http://www.americancrocodilesanctuary.org, and to report a problematic crocodile please call 631-6366. ACES thanks all who helped with the capture of this crocodile and they encourage the community to help in conserving and protecting one of the world's endangered creatures.
Follow The San Pedro Sun News on Twitter, become a fan on Facebook. Stay updated via RSS