Meet your National AIDS Commission Island Committee members
Saturday, October 26th, 2013
The National AIDS Commission Island Committee was established to carry out the local aspect of the National Response to HIV following the guidelines of the National AIDS Commission. The entity is commissioned by the Government of Belize to carry out this function.
The committee is made up of a multi-sectoral body. The San Pedro Sun takes this opportunity to present the members of the executive body to you – the community that they serve.
This week, we take the opportunity to introduce Chila Ugarte.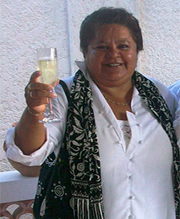 My name is Auxiliadora Ugarte, better known as "Chila", and I have been living in Caye Caulker for the past 27 years. Originally from Nicaragua, I came to Belize to learn English. I fell in love with Belize and eventually called this lovely country my home. I have 2 daughters and also the owner of Chila's Cabin Rental. I enjoy dancing, hanging with friends and most of all socializing. After graduating from college, Iimmediately became an employee of the Ministry of Education (MED) in Nicaragua as an Assistant in Administration. After a year, I was promoted to the Human Resource Department after which I became the Chairperson for 4 years.
While working at the Ministry of Education, I was also a volunteer with the Health Department of Nicaragua and Social Worker who had the opportunity of going to the remote areas, (Rural Zones) to help the people in need. I also helped with educating them to improve their living conditions. However in 1980 one of my goals was to be able to teach the adults in the remote areas how to read and write. When I was selected to join the Campania de Alfabetisacion (Nicaraguan Alphabetization Campaign) for six months, I got to achieve that goal.
Now living in Belize, I am proudly a volunteer member of the NACC/CCM Island Committee San Pedro National AIDS Commission, and a Volunteer member of the Caye Caulker Health Committee. I am now committing myself to again give part of my heart and my time tothese two non-profit organizations. I hope to be able to give the best of my knowledge and help in whatever capacity that it can serve.
Thank you to NACC/CCM Island Committee and Caye Caulker Health Committee for the opportunity given to me to be part of this Organization.
Follow The San Pedro Sun News on Twitter, become a fan on Facebook. Stay updated via RSS