The play "Our World – 1 in 4" captivates SPHS audience
Monday, November 11th, 2013
"There is no greater agony, than to bear an untold story inside me… he took my virginity… he was my hero… I was raped by my grandfather…" Those were some of the words that captivated the student audience at the San Pedro High School (SPHS) as the play  "Our World – 1 in 4" written by retired US college professor and playwright Larry Heimgartner was presented. Trained actresses Sarah Mackenzie of Scotland and Katie Emma Hughes of England, along with four students of SPHS managed to bring across the stories of sexual abuse and rape to the attentive audience of students from the beginning to the end of the play.
Heimgartner taught theater and film at the Los Angeles Harbor College, California USA for 40 years, and after retiring now dedicates his time to taking plays to different parts of the world. Since 1970, Heimgartner has written several plays on topics that continue to negatively impact the global society and for over 12 years he has brought some of those plays to San Pedro Town.
According to multiple global statistics, one in every four females and one in every six males are sexually abused before the age of 18 years. 90% of the times, these sexually abused victims know the perpetrator and 68% are committed by family members. Heimgartner explained that his play "Our World – 1 in 4" paints the inner world and focuses on the "one" in that alarming statistic and in this case features the lives of female rape victims. "The information we are sharing is actually truthful, just that it is not the story of the individuals who are portraying it," he explained.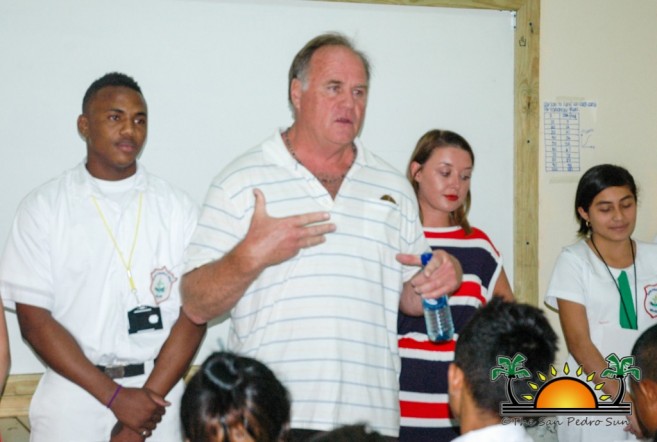 The play brought to life three real stories combined from interviews with 34 women who have been raped. In many instances, the raped women had been abused by family members or people close to them and these victims are forced to bear their experience in silence. "The play gives the students the opportunity to hear real stories of sexual abuse and helps them to realize that people suffering from that particular kind of agony are not alone, and there are people and places they can go to for help. The play was written in such a way that the students can understand that this is a global issue," explained Heimgartner. He said that several of the statements and feelings portrayed in the play were that of the 34 victims that were interviewed and were willing to share their stories as part of the play.
"He began touching me and I said stop… but he pushed me and he became aggressive… he took my virginity away," recites actress Katie Emma Hughes in tears as she portrayed the story of a teenager who was raped by her boyfriend while on a date. Hughes also relives the story of a young girl who was abused by her brother. "He bought a movie and invited me to join him in the attic… we laid down on some pillows on the floor… he began touching me and said he was tickling me… somehow I always found myself with my clothes off… he use to touch me under there… I couldn't believe he would do that to me… he was my hero, but he took my innocence away" she said.

Perhaps the most compelling and touching story was that of a female child that was abused by her male family members. "I was five years old when my grandfather raped me….eight of us lived in a room separated by curtains….when grandmother was away, he would say someone had to take care of him. He made me lie down beside him, and his hands began to move… he got rough with me… I couldn't sleep… he raped me and everyone pretended that nothing occurred… He continued until I was six, then he stopped… At age ten my grandfather did it again… my uncle walked in on us… He was 20 when he raped me too…. it was like I was passed from one family member down to the other… they took turns… my grandfather even fathered a child with his own daughter," said Sarah as she replayed the horrifying role of a rural female child who lived a childhood of sexual abuse. "She lost her innocence and she sincerely believed that no one would touch her or truly love her," explained Sarah. "Let's break the silence" said the actors inclosing.
The classroom was completely silent throughout the play as the students were captivated by the performance. The mesmerizing and powerful message was warmly received as the students gave the actors raising applause. "We are thankful for the message through these true stores brought to life in this play," commented Vice-Principal Conchita Flota. Members of the audience commented that it was "heartbreaking and painful but insightful," about the life of rape victims. When asked about the tone of the play, Heimgartner commented, "The agony of bearing this untold story of such an abuse is tormenting to the point of being completely unbearable. There is great freedom when you can finally let this story be told, you own the story. It freeing enough that it allows people to follow their own dreams. The purpose of the play is to be a catalyst to open up discussion to help heighten awareness of particular issues that are affecting young people and to let them know they are not alone."

Larry Heimgartner and his wife Debbie, play director, will be taking the play to various parts of the USA as well as to England and other parts of Europe. It is the hope of the Heimgartners that through the plays they write and produce, they can positively impact the communities in which the plays are performed.
On the actresses:
Katie Emma Hughes – Actress and Singer
Katie was trained at the London Metropolitan University and graduated with a BA in Performing Arts. Katie's first connection to the stage is with the play 'Are You Positive?' which began in 2006 with American Playwright and Director Larry Heimgartner. She first performed the play in Copenhagen 2007 and then travelled to Los Angeles in 2010 and again earlier this year. Katie was selected to travel to Paris to perform in an awareness project called 'Peace Child, the Musical' which was performed in the UNESCO building located in the heart of Paris. During the summer of 2012 Katie worked the Summer Season in Cyprus where she was a resident singer. Katie is very happy to be working with The Making Alternative Theatre Youth Program as a director and Actress for 'Are You Positive?'
Sarah MacKenie – Actress
Sarah MacKenzie studied at the London Metropolitan University and recently graduated with a BA in Performing Arts. She has a passion for Shakespeare and has performed in three productions at the Rose Theatre, London's first theatre built in 1587on the bank side. Most recently playing Hermia and Flute in A Midsummer Night's Dream, Venus and Adonis (2012) and Comedy of Errors (2012). She has presented at one of the UK's biggest music festivals, T in the Park, for the past three years where she was interviewing top music acts such as the Script and Emile Sande. She is thrilled to be working alongside The Making Alternative Theatre Youth Program as a director and actor in the AIDS awareness play 'Are you Positive'. Sarah has been working with writer and director Larry Heimgartner for the past two years and recently returned from an US tour with the play "Our World – 1 in 4" which is touring Belize and the UK.
Photo Gallery
Please help support Local Journalism in Belize
For the first time in the history of the island's community newspaper, The San Pedro Sun is appealing to their thousands of readers to help support the paper during the COVID-19 pandemic. Since 1991 we have tirelessly provided vital local and national news. Now, more than ever, our community depends on us for trustworthy reporting, but our hard work comes with a cost. We need your support to keep delivering the news you rely on each and every day. Every reader contribution, however big or small, is so valuable. Please support us by making a contribution.
Click to Donate
Follow The San Pedro Sun News on Twitter, become a fan on Facebook. Stay updated via RSS