Jenniffer Ramos is first-ever Miss Holy Cross
Tuesday, December 10th, 2013
On Wednesday December 4th, the San Pedro Lions Den was packed with spectators who had turned out to witness the first ever Miss Holy Cross Pageant. Vying for the crown and honor of being Holy Cross' first ever beauty ambassador were five young girls; Jenniffer Ramos, Midiam Torres, Yeimi Lara, Cindy Dominguez and Breanna Amaya. Master of Ceremonies for the evening was Mr. Angel Nuñez, while deejays Debbie and Kareem kept the music going throughout the festivities.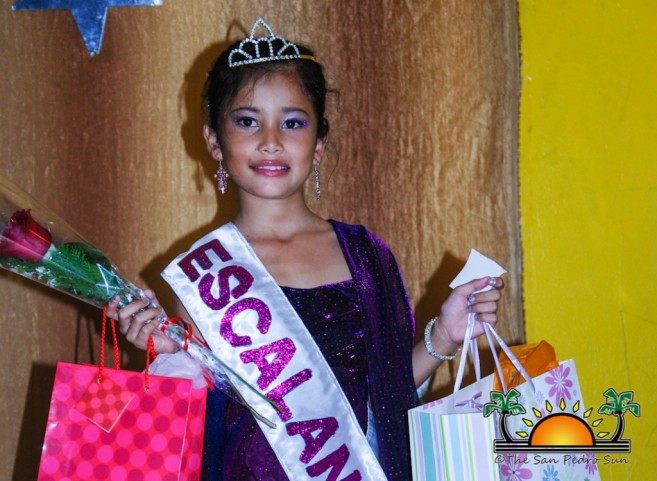 There were many enthusiastic fans rooting for their favorite candidate, but applause was loud and hearty for each girl as she modeled her favorite sports outfit, performed a dance routine and for the grand finale, modeled pretty evening gowns.
Judges for the evening were Ms. Odelia Caliz, Miss San Pedro Solani Graniel and Mr. Mauricio Mejia, and they were tasked with choosing the clear winner. After a question and answer session which each girl handled with grace and poise, the final votes were tallied.
MC Nuñez thanked sponsors, who helped the fundraising efforts of Holy Cross Anglican School by supporting the event. Those sponsors are Castillo's Hardware, Rapidito Loans, A & R, Saint Francis Xavier Credit Union, Atlantic Bank, Foreva Fancy Boutique, Xtreme Geeks, Pirate's Pizza, Reef Restaurant, Casa Pan Dulce, Annie's Deli, Belize Bank Ltd., Caye Caulker Water Taxi, San Pedro Belize Express, Caye Supplies, Love Belize, Cellular World, Tropic Air and Maya Island Air.
After a few agonizing moments waiting for the final decision, prizes were handed out to the winners. Taking Miss Amity (a prize chosen by all the girls amongst themselves) was Jenniffer Ramos. Second runner-up was Yeimi Lara while first runner-up was Midiam Torres. And the first-ever Miss Holy Cross Anglican 2013-14 is Jenniffer Ramos! Congratulations Jenniffer, and may you continue to represent your school with pride!
Follow The San Pedro Sun News on Twitter, become a fan on Facebook. Stay updated via RSS