Belize Awarded "2013 Sovereign Restructuring Deal of the Year" by LatinFinance
Tuesday, January 21st, 2014
Belmopan. January 20, 2014.

Following the successful conclusion of landmark negotiations between creditors and the Government of Belize to restructure the country's US$547.5MM Superbond in March 2013, it was announced last week that the transaction has been awarded the 2013 Sovereign Restructuring Deal of the Year by LatinFinance, the premier financial publication covering the markets of Latin America and the Caribbean.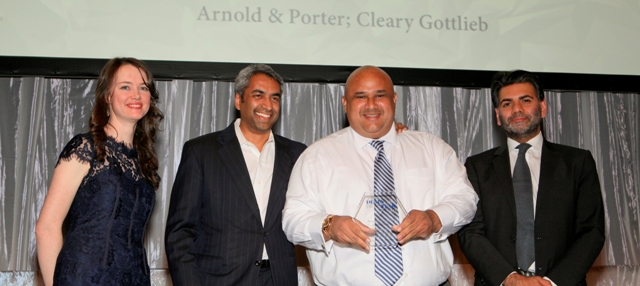 Negotiated in a period of less than one year, the consensual nature of the collaboration demonstrated between the Government of Belize and the Coordinating Committee of Belize Bondholders to achieve a comprehensive restructuring transaction has been lauded by a number of international agencies and financial institutions, and is being pointed to as a precedent for future sovereign restructurings.
Gathered alongside representatives of the region's top corporations, sovereign ministries of finance, investment banks and law firms, the Government of Belize formally received the award at a ceremony held at Gotham Hall in New York City on January 16, 2014. Accepting the award on behalf of the people of Belize and the Rt. Hon. Dean Barrow, Prime Minister and Minister of Finance and Economic Development, was the Hon. Michael Peyrefitte, Speaker of the House, who himself played an instrumental role in facilitating the negotiations with creditors that began in mid-2012.

Speaker Peyrefitte was responsible for arranging a series of top-level meetings between the Prime Minister and the Co-Chairs of the Coordinating Committee that led to the key break-through in the discussions, and continues to serve as a liaison between Belize and the international financial community. After delivering a well received acceptance speech, Speaker Peyrefitte was personally congratulated by a number of the attendees, demonstrating the significance of the transaction to the region and its financial markets.
Follow The San Pedro Sun News on Twitter, become a fan on Facebook. Stay updated via RSS