1 year later; OIC Luis Castellanos Reminisces
Friday, January 24th, 2014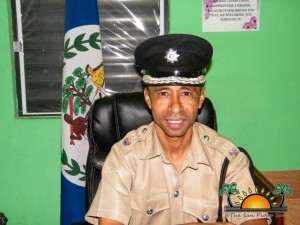 Assistant Superintendent of Police Luis Castellanos has been the Officer in Charge of the San Pedro Police Department since January 14, 2013. Castellanos was transferred to Ambergris Caye after the immediate transfer of OC Vienne Robinson was requested.
Castellanos came San Pedro with 28 years of experience, his strong belief in community support and collaborations have improved the police force and the public's relationship throughout the year. "The relationship with the community has been improved but is still not at the level that I was aiming for. Like I said when I first came here, 'Without the community little can be done'. I think at the beginning of the year the police department was developing a strong bond with the community but it seemed to die down as the year ended," said Castellanos.He stated that relationship building with the community and fostering good public relation skills for his officers continues to be his mission.
In his short time as Officer in Charge, Castellanos also addressed the living conditions of the police officers. Castellanos spearheaded the start of the construction of a new wooden police barracks by seeking monetary donations from the business community. "The living conditions of my officers have always been one of my top priorities. I started the construction of the police barracks hoping that it would be completed by the end of the year, unfortunately that did not happen due to lack of funding and other issues. I am sure that with the support of the community construction will be completed this year," said Castellanos. The barracks construction has been an initiative of the San Pedro Police Department since the early 2000's, but never has any actual construction been done before.

As for the future, Castellanos plans to continue improving the San Pedro Police Department. In addition, Castellanos stated that he has already commenced on a new housing project for his officers, thanks to the generous donation of two mobile homes to the San Pedro Police Department by the Belize Coast Guard. Castellanos has already broken ground in the construction of the foundation for the two houses.
The San Pedro Sun commends Castellanos on a successful year in office; and looks forward to working closely together with him and the San Pedro Police Department in 2014 and beyond.
Follow The San Pedro Sun News on Twitter, become a fan on Facebook. Stay updated via RSS