Konrad Gonzalez wins 2013 Rookie of the Year at the Belize City Softball Competition
Friday, January 31st, 2014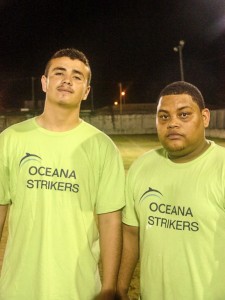 For the past few months, 19 year old Konrad Gonzalez has been representing San Pedro Town in the 2013 Belize City Male Softball Competition sponsored by Smart. At the end of the competition, Konrad took the 2013 Rookie of the Year award after pitching for the Oceana Strikers, who placed second at the end of the tournament.
The tournament saw a series of games by four softball teams from the Belize District, playing for a chance to represent the Belize District in the National Softball Tournament. The tournament began on August 9, 2013 and by December 2013 the championship matches were on.Fighting for the first place trophy in a best-out-of-five tournament was the Oceana Strikers and Guardian Bombers.
The first match was held on December 4th, where the Guardian Bombers defeated the Oceana Strikers in a 17-11 match. On December 6th, the Guardian Bombers won their second match against the Oceana Strikers with a final score of 11-7. With the Guardian Bombers leading at 2-0, it was crucial for the Oceana Strikers to win a game. However, due to inclement weather, games were postponed for the new year 2014.
On Wednesday, January 22nd, the Oceana Strikers geared up to fight, but unfortunately the Guardian Bombers continued their winning streakwith an 11-2 match. That win sealed the championship for the Guardian Bombers, and Oceana Strikers had to settle for second place.
During the award ceremonies, Konrad was named the 2013 Rookie of the yearfor being the youngest and most productive player of the competition.Other awards included: Marconi Leal (Oceana Strikers)-Most Runs Batted In and Highest Batting Average, and Milton Flores (Guardian Bombers)- Most Wins (pitcher), Most Homeruns and Most Valuable Player for the 2013 Belize City Male Softball Competition.Also awarded were Carlyon Flores (Guardian Bombers)- Most Stolen Bases and Most Homeruns, and Jason Belisle (Dantos)- Most Strikeouts.
CongratulationsKonrad!! Keep up the good work!
Follow The San Pedro Sun News on Twitter, become a fan on Facebook. Stay updated via RSS